The violinist shares with The Strad the importance of sharing stories and resources to help restore the livelihoods of musicians affected by war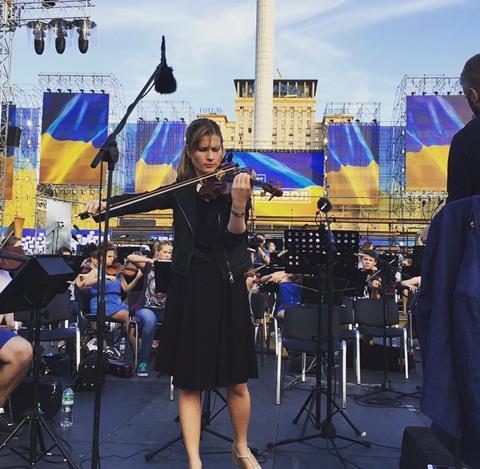 Discover more Featured Stories like this in The Strad Playing Hub
It's really our community of supporters who have allowed us to provide immediate financial aid to over 180 Ukrainian musicians so far. As Russia brutally invaded Ukraine in February 2022, we decided to act immediately and within weeks the 'Relief Fund for Ukrainian Musicians' was built on relationships within the close-knit network of musicians.
We started out using my platform to speak out publicly and raise awareness about the dire need of the people in Ukraine. Within days, we were able to send medical supplies worth €30,000 and provide the financial means of €10,000 for protective clothing and equipment for orchestra members in Lviv and Kyiv. As more and more individual musicians from Ukraine's hardest hit areas reached out for help, the foundation started its individual grant programme to provide them with direct financial aid. Being a nonprofit has helped receive the support of many colleagues within the community and has enabled us to build bridges to both, donors as well as Ukrainian musicians most in need.
Our beneficiaries are professional musicians so far mostly from Mariupol, Kharkiv, Chernihiv and Severodonetsk, many of whom are affiliated with Ukraine's top orchestras, ensembles and conservatories. As an example, we have now helped the entire Mariupol Philharmonic and most members of the Kharkiv National Academic Theatre of Opera and Ballet, among others. The grant has helped them to quickly and meaningfully address their most urgent needs such as evacuation expenses, medical care, food supplies, housing costs or instrument replacement and repair.
With most our beneficiaries having experienced bombing and shelling of their home towns and cities, their families were on the brink of survival with their livelihoods destroyed. The grant itself as well as the support behind has given them hope and practically enabled them to get established in a safe new home, purchase a new instrument as many were forced to leave their own behind, or to pay for surgery, necessary after air raid bomb explosions.
Nine months into running our emergency relief fund, we are proud to say over €100,000 worth of donations have been raised for Ukrainian musicians. This keeps us motivated to work as hard as we can on our fellow musicians' behalf, so we can reach more of those so utterly in need.
It is essential for us to continue to raise awareness on the dire situation in Ukraine, have conversations about the necessity to fill in for financial gaps and tell stories from the frontlines our beneficiaries experience. Storytelling is an important goal for us, as it is quite challenging to get the amount of information across and so express the enormous need for financial aid.
Please consider making a donation to our fund, we are grateful for any amount of support.
US-donors have the possibility to donate via KBFUS, a 501(c)(3) public charity: kbfus.networkforgood.com/projects/54386-l-kbfus-funds-lisa-batiashvili-foundation-e-v-de.
For all other donations, please go to: lisabatiashvili-foundation.org/donation