A fundraiser has been set up to enable Aidan Mulholland to continue working, despite losing all his stock and tools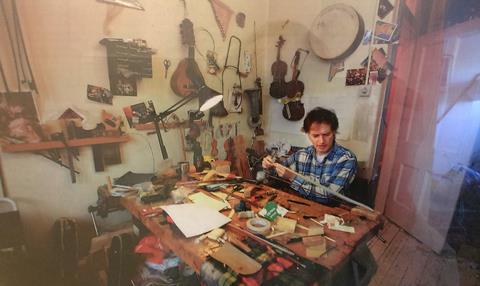 Read more news articles here
A recent fire in Belfast's Cathedral Quarter has devastated a local luthier's workshop of 30 years, destroying stock, tools and an instrument and bow collection worth over £30,000.
Aidan Mulholland, owner of Mulholland Strings, woke up on the morning of 3 October to hear that his workshop in the Old Cathedral Building had been lost in a blaze. Emergency services were called to the site just after 5.40AM.
'One of the keyholders heard from a friend during the night and he tried to contact me,' Mulholland told Belfast Live. 'Someone from the building phoned me on Monday morning and said there was some bad news… He said that the building was on fire and I asked how bad is it, and he told me it was gone.
'I had a really good stock of instruments and all the tools I needed - I restocked during Covid too as I thought I would get an avalanche of work after that, then this has happened.
Mulholland estimates his stock lost was worth over £30,000, but due to some instruments he bought at auction, he suspects it was more. 'To actually replace what I had in terms of instruments is probably double that. It's scary never mind all the other things that were there - wood, tools, bows.'
In addition to his work as a restorer and bow maker, Mulholland is an Irish fiddler, and is well known in the local Flamenco community. He is also a teacher, using his studio for violin lessons.
A fundraiser has been set up to help Mulholland recover some necessary tools required to continue his business, with the aim to raise £7,000. As of Thursday 6 October, the fundraiser has reached 85 per cent of its target. Mulholland intends to continue what business he can from his home, urging anyone who needs repairs to contact him through his website.
We can confirm that the fire at a commercial premises on Donegal Street, Belfast has now been dealt with. The cause of the fire is being treated as deliberate and the PSNI are investigating pic.twitter.com/0zWM6VhXNE

— Northern Ireland Fire & Rescue Service (@NIFRSOFFICIAL) October 3, 2022
The Old Cathedral Building was built in 1901 and became a listed building in March 2003. It is home to a range of businesses, artists and groups, many of whom are freelancers currently lamenting seeing their life's work 'literally go up in flames.'
Following Monday's fire, an 18-year-old man has been charged with arson with intent to endanger life, as well as burglary and possession of a Class B drug.