First prize went to the 16-year-old Chinese cellist Xuanhan Xu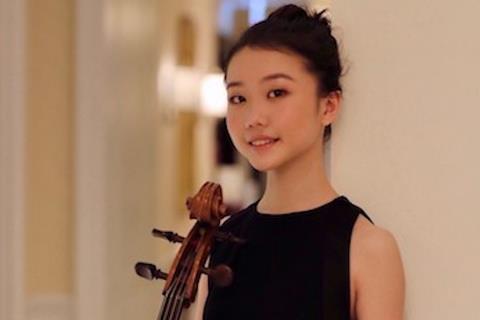 Winners have been announced for the Pablo Casals International Award 2020.
First prize was awarded to the 16-year-old Chinese cellist Xuanhan Xu. She receives € 18,000.
Serbian violinist Petar Pejčić won the AENA Special Prize, receiving € 12,000.
Third prize of € 6,000 went to the German violinist Felix Brunnenkant.
Xuanhan Xu, who has studied under professor Gustav Rivinius at the University of Music Saarland in Germany since the age of 13, previously won the David Popper International Cello Competition in Hungary, aged 9. Around the same age she was selected to be one of the concert artists by Shanghai Spring Art Festival for Promising Future Artists program for the 31st Shanghai Spring Art Festival.
The jury also awarded honorary mentions to Raffaella Cardaropoli (Italy), Tzu-Shao Chao (China, Taiwan), Jeremias Fliedl (Austria), Miquel Keenan Fuentes Bock (USA), Benjamin Kruithof (Luxembourg), Joe Pritchard (UK) and Till Schuler (Germany).
Read: Polish National Violin Competition Zdzislaw Jahnke announces prizes
Read: Oskar Nedbal International Viola Competition announces winners
Read: Cellist and violinist win 2020 Concert Artists Guild competition
The aim of the Pablo Casals International Award is to support and improve the training of young cellists and is supported by the airport operator AENA and the collaboration of the Banco Sabadell Foundation.
The final selection was carried out in digital format this year and the ten finalist candidates sent two videos of their performance of this year's required works. The videos of the performances of the finalists will be available on the YouTube channel of the Pau Casals Foundation until 24 November.
The jury for this year's 2020 edition was chaired by Marta Casals Istomin, co-founder and vice president of the Pau Casals Foundation, and included Claudio Bohórquez, Henri Demarquette, Gustav Rivinus, Arnau Tomàs (winner of the Pau Casals Scholarship in 1991) and Bernard Meillat (artistic advisor to the Pau Casals Foundation and jury secretary).