Myrna Herzog explains circumstances while airline claims investigations ongoing but that signed 'limited release' form effectively absolves it of responsibility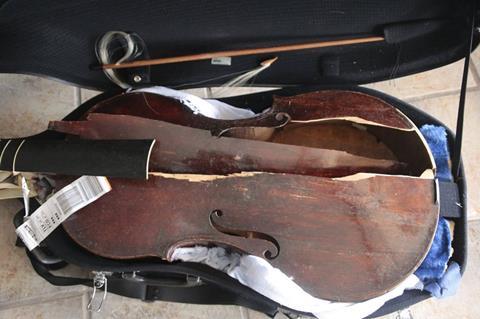 The shocking photos accompanying Dr Myrna Herzog's social media post on 3 January of her destroyed viola da gamba have sent her complaint globally viral. She has since been in touch with The Strad to further explain the circumstances of the incident:
Flying from Rio de Janeiro to Tel Aviv with a stopover in Rome, Herzog reluctantly allowed the instrument to be placed in the hold at the boarding gate after being told there was no space on the flight, and assured it would be taken by hand and treated as a fragile item. Herzog expected that, like pushchairs which are handed over at the door of the plane, her viol would not be subjected to undue stress.
However, on arrival in Rome, the instrument was not handed back to her but instead routed with the rest of the luggage into the airport's system and transferred to the Rome-Tel Aviv flight for the second leg of Hergog's journey. On arrival in Tel Aviv, as the instrument again didn't show up, 'I went to the claims place,' Herzog told The Strad.
'They went down to find it, and got back saying that it had arrived broken, and that I had to fill a form. After I did so, they brought it, and the sight was really horrific. Even they were horrified.'
Alitalia has now issued a statement saying that 'We regret what happened with Mrs. Myrna Herzog and we are carrying out all necessary investigations.'
The statement goes on to suggest that they recommend an extra seat is purchased for musical instruments larger than a standard carry-on suitcase, and that: 'According to a preliminary investigation, no such request has been presented by the passenger neither during booking nor at the time of departure from Rio de Janeiro.
'During check-in operations, according to the information available at the moment, the passenger was presented with the possibility to buy an extra seat but she refused and signed the limited release form (a disclaimer of liability) after being informed that the best solution for such a delicate item was to bring it with her in the cabin. That said, Alitalia deeply regrets what happened to Mrs. Herzog and will proceed, having established the facts, with the reimbursement in compliance with the international regulations in force.'
The 'limited release' form is often used by airlines when transporting unusually shaped, outsize or fragile items, and effectively means they are carried at the owner's risk.
'The result of Alitalia's "special handling" of my instrument is horrifying. It was either caused by carelessness or intention to produce damage. The instrument had a German Gewa hard case bearing several red tags of "Fragile", without bridge, soundpost, pegs, strings or tailpiece, to ensure safety.
'But no matter what case the instrument would be in, and how it would be packed, it would not have resisted to what it was submitted … I took it to the restorer Yuval Adereth, who says it will take around a year to repair it properly and is trying to estimate the cost of such repair.
'In the course of 40 years, I made many trips with viols. People used to let us have them inside the plane. When this was impossible, they were handled with care, and there were no problems. Nevertheless, year after year good will is being substituted by greed and disrespect for the musician.
Why do they wait for the parents with their kids' trolleys and they cannot do the same with our instruments? Why can't we have our cellos inside the crew wardrobe, where they fit so well? Why can't there be a policy regarding the care of musical instruments? It is our task not to accept the present scorn with which they treat us and demand an organised policy regarding our instruments.'