The crossover violinist has announced a new CD and tour following a six month absence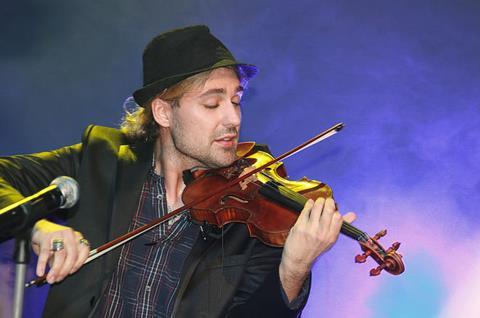 After a break of several months, during which he recuperated from a slipped disc, the German-American crossover and pop violinist David Garrett is returning with a new show. 'Unlimited – Greatest Hits' , which tours Germany, Switzerland and Austria in 2019, will feature Garrett's favourite pieces and arrangements from the last ten years, including 'Smooth Criminal' and 'Viva la Vida'. It follows off the back of a new CD, due out this October.
'After five or six months of intensive therapy I now have so much more awareness', Garrett told the Hanover Neue Presse. '[This experience] has also been a boost to my motivation – I'm writing a lot of my own stuff again.'
Garrett originally revealed he was suffering from the condition at the end of January, when he cancelled a set of five concerts. He subsequently had to pull out of several more. 'For five months I had an absolute practice ban,' Garrett told the Neue Presse. 'You learn to be more patient. You have to get rid of what you have done for decades and change accordingly. A little yoga, three weeks' Ayurveda cure. Now I am one hundred percent back on form.'
The violinist launches 'Unlimited Tour' on May 17th in the TUI Arena, Hanover. The pre-sale starts on 3 September and the new best-of album 'Unlimited' will be released in early October.
.'