41 violinists under the age of 31 will have the chance to scoop first prize of €50,000 in October this year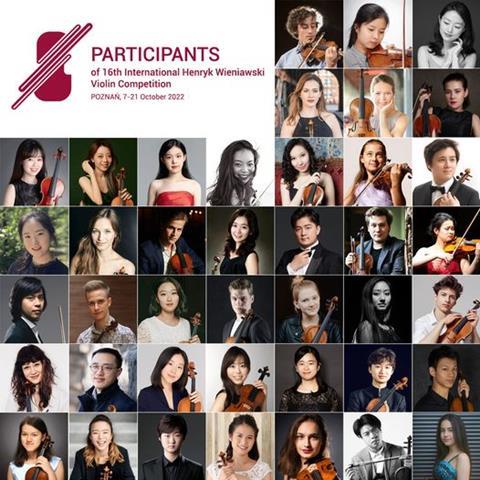 41 violinists have been selected to take part in the 14th Henryk Wieniawski Violin Competition, to be held in Poznań from 7 to 21 October 2022. They are:
1. Phoenix Avalon, USA
2. Hana Chang, USA
3. Jane (Hyeonjin) Cho, South Korea
4. Larissa Cidlinsky, Germany
5. Hawijch Anna Elia Elders, the Netherlands
6. Klara Gronet, Poland
7. Natsuki Gunji, Germany
8. Xiang Han, China
9. Yiyang Hou, China
10. Sirena Huang, USA
11. Meruert Karmenova, Kazakhstan
12. Maya Alexandra Kasprzak, Japan / Germany / Poland
13. Sungmoon Kim, South Korea
14. Alexander Won-Ho Kim, South Korea / Germany
15. Judyta Kluza-Sporniak, Poland
16. Paul Kropfitsch, Austria
17. Miyeon Lee, Germany
18. Hao Li, China
19. Robert Łaguniak, Poland
20. Hina Maeda, Japan
21. Elias David Moncado, Germany
22. Wojciech Niedziółka, Poland
23. Sueye Park, South Korea
24. Tassilo Probst, Germany
25. Charlotte Spruit, the Netherlands
26. Karen Su, Belgium
27. Adam Suska, Poland
28. Sulamita Sara Ślubowska, Poland
29. Max Tan, USA
30. Belle Ting, Austria
31. Natsumi Tsuboi, Japan
32. Ayaka Uchio, Japan
33. Shihan Wang, Germany
34. Qingzhu Weng, Germany
35. Maya Madeleine Wichert, Germany
36. Katherine Woo, USA
37. Dayoon You, South Korea
38. Takako Yumiba, Germany
39. Eva Zavaro, France
40. Zhixin Zhang, Switzerland
41. Barbara Ewa Żołnierczyk, Poland
The 41 violinists were chosen by a pre-selection jury consisting of Augustin Dumay, Daniel Stabrawa and Madeleine Carruzzo. 234 violinists from 34 countries applied via recording submissions. The chosen participants will have the opportunity to compete for a prize pool worth €115,000, with first prize of €50,000 cash.
The competition opens on 7 October and will be held at Adam Mickiewicz University Auditorium in Poznań, starting with a concert featuring Veriko Tchumburidze, winner of the previous edition, and the Warsaw Philharmonic conducted by Andrzej Boreyko. The concert will feature Violin Concerto in A Minor Dvořák, the 'Rebirth' Symphony by Mieczysław Karłowicz, as well as a piece by the Ukrainian composer Victoria Polevá as a sign of the competition's solidarity with the Ukrainian people affected by war.
The first edition of the competition was held in 1935 and won by French violinist Ginette Neveu, with David Oistrakh awarded second place. The competition was last held in 2016 and was won by Veriko Tchumburidze, with Bomsori Kim and Seiji Okamoto awarded second prize equally.