Violinist Andrea Obiso will share the first violin position with Carlo Maria Parazzoli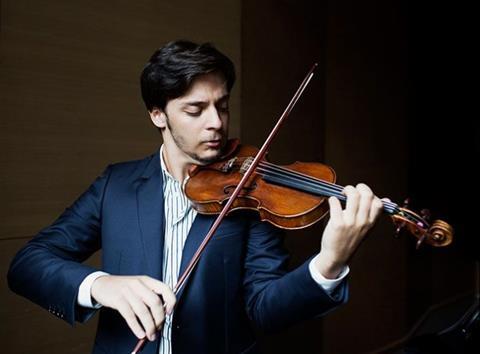 Andrea Obiso
Italian symphonic ensemble the Orchestra dell'Accademia Nazionale di Santa Cecilia and principal conductor Antonio Pappano have named violinist Andrea Obiso as their new concertmaster.
Obiso, 25, was selected over 80 other candidates for the role, at a competiton set up by the National Academy of Santa Cecilia. He will share the first violin role with Carlo Maria Parazzoli.
The violinist, who is from Palermo, was a student of the late Aaron Rosand at the Curtis Institute in Philadelphia from 2016-2019. In 2005 he became the youngest student to be admitted to the Accademia Chigiana in Siena, studying with Boris Belkin, with whom he also took lessons at the Maastricht Conservatory. He made his debut as a soloist at age 13 with the Fondazione Orchestra Sinfonica Siciliana in Vieuxtemps's Violin Concerto no.5. He went on to win first prize at the 66th ARD International Competition 2017 in Munich. In 2018 he toured Germany and Finland and debuted at the Berlin Philharmonie.
Founded in 1908 and based at the Auditorium Parco della Musica in Rome, the Orchestra dell'Accademia Nazionale di Santa Cecilia was the first orchestra in Italy to devote itself exclusively to the symphonic repertoire. Premieres have included Respighi's Fountains of Rome and Pines of Rome. Since its inception the orchestra has collaborated with conductors and composers including Mahler, Debussy, Strauss, Stravinsky, Hindemith, Respighi, Berio, Stockhausen, Toscanini, Furtwangler, De Sabata, Karajan, Stokowski, Böhm, Kleiber, Celibidache, Sinopoli, Bernstein, Abbado, Muti and Barenboim. Abbado took the role of music director in 2005.
The original Accademia di Santa Cecilia was founded in 1585 as an association of musicians in Rome by Pope Sisto V and its first President was the composer Giovanni Pierluigi da Palestrina in Rome. It is one of the oldest musical institutions in the world.
Obiso plays a Guarneri 'del Gesù' 1741 violin on loan from NPO Yellow Angel.