21-year-old Elizabeth Howells was killed in upstate New York on Friday. A 31-year-old man has been arrested and charged with murder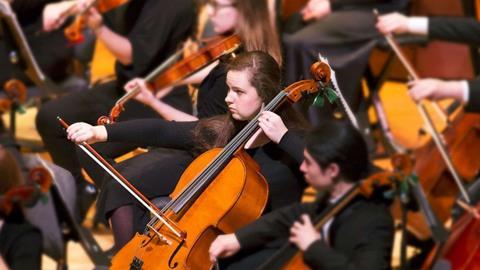 A music education student at State University of New York (SUNY) in Potsdam was tragically killed near the university campus on Friday night.
Elizabeth Howells, who was due to graduate from the Crane School of Music this year, was found at the scene by local police unconscious with gunshot wounds. She was taken to the Canton-Potsdam Hospital where she was pronounced dead.
Police have arrested and charged Michael J. Snow, 31, of Massena, New York, with second-degree murder on Saturday afternoon. It is unclear how Snow is connected to the victim.
Howell performed with the Crane Symphony Orchestra and was described as 'an aspiring educator with a bright future ahead of her,' by Dr. Phil Neisser, the president of SUNY Potsdam.
He continued in a statement, 'Together, we – as one united campus community – honour her life and mourn her loss.'
We are in disbelief at the sudden loss of one of our own, Elizabeth Howell '22, a music education student at our Crane School of Music. Our thoughts are with all of Beth's friends and family during this difficult time. pic.twitter.com/2lzyPKA87x

— SUNY Potsdam (@sunypotsdam1816) February 19, 2022
Classes at the university have been cancelled on Monday.
New York State Police are calling for information regarding Snow: 'On the date of the homicide, Snow was observed operating a grey Honda Civic bearing NY registration KVE2731. The vehicle has damage to the driver's side door.
'The investigation has determined that the vehicle passed through Potsdam, Hopkinton, Malone, Westville, Hogansburg and Massena between 5:00 p.m and 8:30 p.m. on February 18. Anyone who may have seen Snow and the vehicle during these times is asked to contact the New York State Police Troop B Communications at (518) 873-2750.'