Member of the DePue Brothers Band and violinist for rock guitarist Steve Vai, DePue passed away in an accident on Thursday 27 January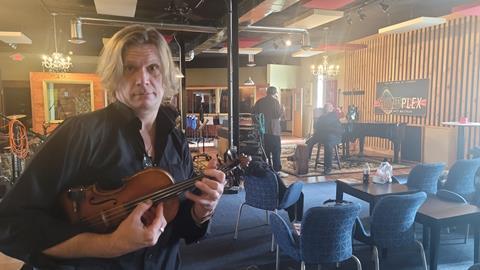 Alex DePue, a violinist who was known for cross-genre fiddle playing, died in a car crash in Mexico last Thursday. He was 49.
The second-eldest of the DePue siblings that made up the DePue Brothers Band, he was born in Bowling Green, Ohio, where he began his classical violin training at the age of five. He won his first university-level competition at age 10, soloing with the Bowling Green State University Symphony Orchestra, and at the age of 14 won a competition which entitled him to a performance at Carnegie Hall, serving as concertmaster under the direction of Joseph Silverstein for the National Guild Youth Symphony Orchestra.
DePue became interested in fiddle playing at the age of seven, winning numerous US fiddle competitions in his youth, as well as serving as a judge at the National Oldtime Fiddling Championship. In n 2010 and 2011, he won first place in the Twin Fiddle division while ranking among the Top 10 finalists in the Grand National Championship division.
He became the violinist for virtuosic rock guitarist Steve Vai, touring with him worldwide from 2007-2010. Vai's 2009 DVD release, Steve Vai: Where the WILD THINGS Are (a live concert music-movie co-featuring DePue), earned a Grammy nomination for 'Best Live Rock Instrumental Performance'.
Through his work with Vai, DePue was introduced to, and then subsequently teamed up with Mexican guitarist, Miguel De Hoyos, with whom he collaborated for many years.
Hailing from a musical family, he formed the DePue Brothers Band with siblings Wallace Jr, Jason and Zachary. The DePue Brothers Band, who describe their music as 'Grassical', blending American grass-roots music and classical music, paid tribute to their brother on social media, 'He was certainly the "rock star" of our family and he lived life to the fullest by the day, the way he wanted to live it. He was his own boss, and we've always respected him for that'.
Tributes to DePue are flowing on social media. Country artist Chris Cagle, with whom DePue had worked as musical director, said, 'Alex DePue was one of the most talented musicians I have ever shared a stage with. His passion was simply to play and inspire others to do so!
'He was a rule of music breaker, a savant, a rock star whose passion for performance was rarely rivaled. I'm going to miss him! Rest In Peace my friend.'
Renowned US fiddler Mark O'Connor said, 'Alex did everything you could do on the violin, from reinventions of Bach, or Paganini, to playing exciting rock fusion with guitar great Steve Vai for over three years, playing country music in Nashville with Chris Cagle for even more years… playing bluegrass/classical with his violin-playing brothers, or winning fiddle contests.
'He had a big personality, was really funny, charming to be around… fun competitive spirit. Those brothers in one house growing up – but so much respect between them! It's beautiful they continued to get together for projects even as recent as a couple years ago.'
He is survived by his newly-wed wife of nine months, Aria Curzon DePue, as well as his father Wallace, and brothers Wallace Jr, Jason and Zachary.