Benjamin Kruithof won first prize worth €15,000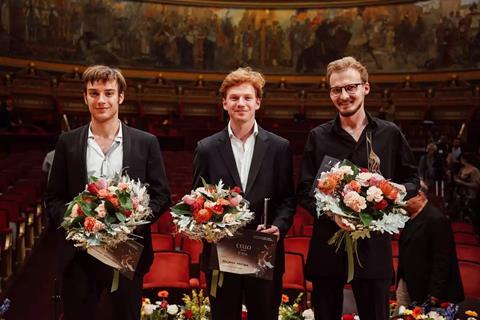 Read more news articles here
The cello final of the 2022 George Enescu International Competition were held on 8 September at the Romanian Athenaeum in Bucharest.
First prize went to Benjamin Kruithof of Luxembourg, following his performance of the Dvořák Cello Concerto with George Enescu Philharmonic Orchestra, conducted by Tito Muñoz. Kruithof wins €15,000 as well as concert opportunities in the 2023 and 2024 editions of the George Enescu International Festival and Competition, plus performances in the upcoming seasons of the Romanian Philharmonic.
Kruithof began studying the cello at the age of five at the Conservatoire du Nord with Raju Vidali. He has performed with the Luxembourg Chamber Orchestra, Herford Philharmonic, Luxembourg Philharmonic Orchestra. In February 2020 he recorded his first CD with the Herford Philharmonic at Ars Production and was invited to attend the Seiji Ozawa Academy in Switzerland in 2021. He plays on a cello by G.B. Guadagnini, made available to him by the University of the Arts in Berlin
Moldavian/Romanian cellist Constantin Borodin took second prize, worth €10,000, while German cellist Constantin Siepermann won third prize, worth €5,000. All three finalists received a glass trophy made by artist Iulia Năstase.
This year's edition marked the competition's return to the theatre and live audiences following the pandemic. 'It was a difficult two years, due to the pandemic, but I am happy to note that this did not affect us from an artistic point of view, because we had some special performances in this contest,' said jury chair David Geringas. He chaired the jury which comprised Natasha Brofsky, Enrico Dindo, Reinhard Latzko, Leonid Gorokhov, Alexandra Guțu, Tsuyoshi Tsutsumi, Marin Cazacu and Meehae Ryo.
Last year's competition was won by Korean cellist Jaemin Han, who at 15 years old, was the youngest ever winner of the competition at the time. The violin discipline of the George Enescu International Competition continues this week, with Ștefan Aprodu (Romania), Maria Marica (Romania) and Grégoire Torossian (France) battling it out in the final round on 13 September.