At the second-ever cello edition of the Queen Elisabeth Competition, twelve world-class cellists competed for the top prize in gruelling finals attended by the Belgian queen herself. Pauline Harding reports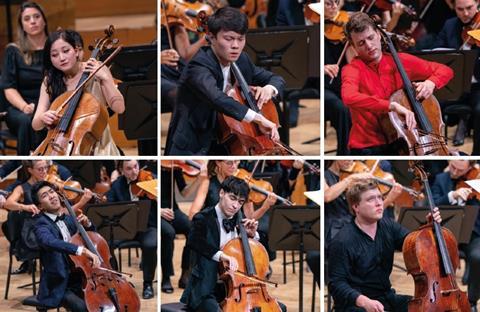 Explore more Featured Stories like this in The Strad Playing Hub
The Centre for Fine Arts in Brussels is a regal building befitting a royal music competition. Designed by Belgian architect Victor Horta in 1919 and completed ten years later, the eight-floor complex encompasses a concert hall of sweeping cream curves and columns. Above the stage, concentric circles edged with gold project from the ceiling like a giant, inverted crown. Due to Covid, at last year's Queen Elisabeth Competition finals (for piano) the hall's red-velour seats were the competitors' only audience. The year before, no competition took place at all. This year, excited audience members filled almost every chair, bringing with them a celebratory feeling of post-pandemic 'normality'. They burst into enthusiastic applause as the Brussels Philharmonic meandered on to the stage, and then again for the entrances of conductor Stéphane Denève and the star-studded jury.
To see so many world-renowned cellists all together – Gautier Capuçon, Myung-Wha Chung, Natalie Clein, Roel Dieltiens, Anne Gastinel, Marie Hallynck, Frans Helmerson, Anssi Karttunen, Mischa Maisky, Antonio Meneses, Sharon Robinson, Jian Wang and Sonia Wieder-Atherton – was breathtaking. Barely had that applause subsided when the audience stood and turned to clap again as King Philippe and Queen Mathilde of Belgium entered the royal box at the hall's rear to an orchestral welcome of the Belgian national anthem.
Queen Elisabeth of Belgium (1876–1965) and violinist Eugène Ysaÿe set up the Queen Elisabeth Competition in 1937 to showcase the talents of young violinists and pianists. From 1988 it expanded to include vocalists, from 2017 to include cellists, and now the four disciplines rotate year by year. The 2022 event from 9 May to 4 June was only the second for cello and attracted audition tapes from all over the world, from 152 cellists aged 18–31. Of those, 66 competed in the first round, 24 in the semi-finals, and 12 in the week-long finals attended almost every night by Queen Mathilde. On one evening I found myself face to waist with this towering monarch dressed head to toe in shimmering gold. Despite her intimidating appearance, she soon revealed herself to be a warm individual, a fellow musician and music lover, present at the competition not through a sense of duty but because of genuine enthusiasm.
And so royals and 'regulars' sat together with shared anticipation as the finals began, to hear two competitors a night perform a newly commissioned work followed by a major 19th–20th-century concerto. The new piece – 5 Albumblätter for cello and orchestra, by Jörg Widmann – tested the cellists' command of the instrument musically and technically, from its opening double-stops to passages of melancholy lyricism, Latin romance, humour and virtuosic passagework that reduced the left hand to a visual blur.
Competitors had spent just one week with the score and a recording of the orchestral part while living in isolation at the Queen Elisabeth Music Chapel, where they had been allowed to talk to one another but had had no contact with the outside world. Without access to their phones, tablets or the internet, they had been forced to find their own musical and technical solutions, and the results were fascinating. Each competitor emphasised such different characters and themes that at times they could have been playing different pieces. Impressively, several performed extended sections with their eyes closed. Some, however, were left behind in passages of fast-flying fingerboard acrobatics, struggled to speak clearly above the orchestra, or misjudged double-stops and top-of-fingerboard notes. At least two competitors made faces of visible relief when they stood to take their bows. One looked as though he might cry.
The audience had clear favourites. In 5 Albumblätter, an intense 20-year-old Petar Pejčić, from Serbia, drew laughter from the hall when, after one difficult passage, he turned his page loudly with an air of conquest and a determined expression that seemed to say, 'What next?' After this he grinned and danced his way to the end, physically jigging with glee. Yibai Chen, 20, from China, also gave a dramatic performance, and after both interpretations the audience whooped and cheered. In contrast, 26-year-old Belgian cellist Stéphanie Huang's performance was natural and unforced, with beautiful sound and phrasing. Her final movement felt characterfully surrealistic and circus-like. Austrian Jeremias Fliedl, 22, and Korean Hayoung Choi, 24, shaped the opening double-stops musically into the legato melody that followed, giving
a continuity of sound and phrase that I found lacking in others' interpretations. Huang, Fliedl and Choi all collaborated beautifully with the orchestra, with Fliedl – despite a somewhat erratic vibrato – emulating and arguing with the bassoons and horns using characterful articulation, contrasting timbres and playful timing. Choi's performance, which ended with two expansive, carefree and spirited final movements, drew particularly enthusiastic applause.
The most accomplished playing came, inevitably, in the pre-prepared concertos. Projection and confidence instantly improved among competitors including Taeguk Mun, 28, from South Korea, and in performances of Prokofiev'sSymphony-Concerto op.125 by Korean Woochan Jeong, 23, and 28-year-old Ukrainian Oleksiy Shadrin. Jeong's interpretation conjured delicate characters and scenes that made up for a lack of bite and showmanship, while Shadrin navigated double-stops deftly and played with clarity and resonance, with expansive, singing legato phrasing. In the Schumann Concerto, Fliedl brought out a real sense of storyline, unafraid to push past a beautiful sound when the music demanded it as he moved between magnetic pianissimos and moments of impassioned madness.
Not all the results were expected, even for the jurors
Three competitors chose the Dvořák Concerto. Huang's interpretation was sensitive and singing but lacked the grit and bite of performances by Korean Sul Yoon, 26, and Canadian Bryan Cheng, 24. Yoon's lines expressed everything from melancholy and thoughtful stillness to cautious optimism and passionate resolve, eliciting rapturous applause that caused her to break down in tears, perhaps from relief. Cheng shaped his performance with a constant sense of narrative, rising elatedly to match the first violin for a goosebump-inducing duet with the concertmaster to end the third movement.
Shostakovich was another popular choice. In the Second Concerto, Pejčić's playing was proud and determined, and he tipped his head back with a crazed grin as the orchestra rose to a powerful climax. Swiss 24-year-old Samuel Niederhauser interacted characterfully with the timpani in the same work, but played with such enthusiasm that he seemed to lose half his bow hair, sometimes choking his sound in the process. In the First Concerto, Estonian 27-year-old Marcel Johannes Kits began and ended with motoric drive and bite, either side of a beautifully voiced and atmospheric second movement with well-judged contrasts in attack and vibrato to enhance every phrase. Chen's rendition began at an exhilarating tempo, with a clear, cutting sound that dipped down occasionally into more mysterious tones. His demonstrative playing, with much hair tossing and drama, received a standing ovation.
Only one candidate was brave enough to tackle Lutosławski's exposed and emotionally raw Cello Concerto, and that was Choi. This was a 'nice' performance that would have benefited from more timbral contrast and narrative progression, but she played with a confidence, technical mastery and poise that won her the first prize of €25,000. The second prize of €20,000 went to Chen; third prize of €17,000 to Kits; fourth prize of €12,500 to Shadrin; fifth prize of €10,000 to Pejčić; and sixth prize of €8,000 to Cheng. Not all the results were as expected, even for the jurors, who had been forbidden from discussing their thoughts with one another during the competition and had voted independently by secret ballot. Nevertheless, as one shrugged afterwards, 'That's competitions' – and surely every one of the talented musicians who progressed to this noble final will go on to have a glittering career.
This article was published in the August 2022 Pekka Kuusisto issue.

The adventurous Finnish violinist talks to Andrew Mellor about his predilection for finding new challenges – including a recent shift to the conductor's podium. Explore all the articles in this issue

More from this issue…