40 violists aged 21 and under will compete at the event held at Royal Birmingham Conservatoire from 14 - 20 November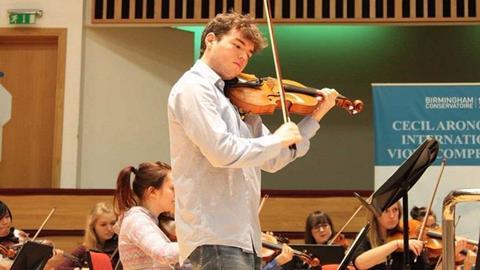 The British Viola Society has named the 40 live competitors taking part in this year's Cecil Aronowitz International Viola Competition. Running from 14-20 November at Royal Birmingham Conservatoire, UK, the event is open to violists aged 21 and under.
Despite uncertainty due to Covid-19, this year's competition received 93 applications, with the youngest being 14 years old. This year's competitors are:
Vittorio Benaglia (Italy)
Alvaro Castello (Spain)
Yuxin Chen (China)
Jone Diamantini (Italy)
Edgar Francis (UK)
Chang Ge (China)
Seamus Hickey (Ireland)
Brian Isaacs (USA)
Yong-ha Jung (South Korea)
James Kang (USA)
Bill Ko (Hong Kong)
Dagmar Korbar (Croatia)
Dana Lee (Australia)
Yat Lee (Hong Kong)
Yixiu Lin (China)
Laura Liu (USA)
Zitian Lyu (China)
Devin Moore (USA)
Hanuel Park (South Korea)
Anuschka Pedano (Netherlands)
Connie Pharoah (UK)
Eva-Maria Radl (Austria)
Mikel Rollet (USA)
Alinka Rowe (UK)
Noga Shaham (Israel)
Joseph Skerik (USA)
Abigail Smith (USA)
Miguel Sobrinho (Portugal)
Marvin Stark (Germany)
Lynn Sue-A-Quan (Canada)
Nicholas Swensen (Denmark)
Anna Sypniewski (France)
Otoha Tabata (Japan)
Yanan Wang (China)
Yujie Wang (China)
Zhupeng Xi (China)
Mingyue Yu (China)
Yujie Zeng (China)
Jaren Ziegler (UK)
Paul Zientara (France)
The competition winner will receive a cash prize of £5,000; a concerto recording with the BBC Concert Orchestra and EM Records; a performance at the English Music Festival; a fine viola bow courtesy of Bishop Instruments & Bows; and a KorkferRest, strings and rosin courtesy of Pirastro.
Read: Cecil Aronowitz Viola Competition 2017 names winner
Read: Timothy Ridout wins inaugural Cecil Aronowitz International Viola Competition
Read: Life Lessons: Timothy Ridout
Alongside the competition, a number of viola events will take place throughout the week, including workshops, masterclasses, recitals from the jury members and displays from luthiers.
Launched in 2014, the competition is dedicated to South African violist Cecil Aronowitz. Winner of the 2014 contest was Timothy Ridout, while the 2017 edition was won by Emma Wernig.