27 international contestants will take part in the competition from 6 to 12 November at Royal Birmingham Conservatoire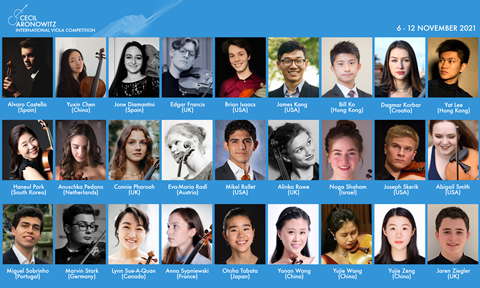 27 international contestants have been selected for the 2021 Cecil Aronowitz International Viola Competition, which takes place from 6 to 12 November at the Royal Birmingham Conservatoire. The competition was originally intended to be held in 2020, but was postponed due to the Covid-19 pandemic.
The contestants will perform for the chance to win first prize of £5,000; an album recording with Champs Hill Records; a fine viola bow courtesy of Bishop Instruments & Bows; and a KorkferRest, strings and rosin courtesy of Pirastro.
Launched in 2014, the previous winners are Timothy Ridout (2014) and Emma Wernig (2017). The competition was formed in memory of South African violist Cecil Aronowitz (1916-1978) who had a prolific musical career in the UK, with feats including collaborations with Benjamin Britten, the first performance of Shostakovich's Viola Sonata in the UK, founder of the Britten-Pears Orchestra and professor and head of strings at Royal College of Music and Royal Northern College of Music respectively.
Read: 'I have never entered a competition hoping to win' - Emma Wernig
Read: Cecil Aronowitz Viola Competition names winner
Read: Life Lessons: Timothy Ridout