Emma Wernig from Los Angeles wins Birmingham Conservatoire based competition in second edition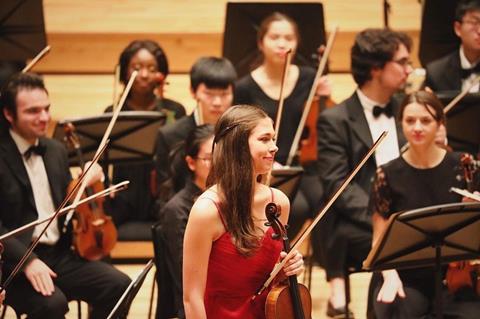 The Cecil Aronowitz Viola Competition, hosted by the Royal Birmingham Conservatoire, Birmingham City University and the British Viola Society, has announced Emma Wernig, 18, from Los Angeles, as its 2017 winner.
Taking place on Friday 24 November at the Royal Birmingham Conservatoire's new buildings, the final involved five young violists whittled down from the 26 who played in the earlier rounds and the total of 69 applications from 20 countries. Along with Wernig, the other finalists were Lara Albesano, Sào Soulez Larivière, Yue Yu, and Silas Zschocke.
Wernig currently studies at the Colburn Conservatory with Paul Coletti and has taken part in the Heifetz Institute and IMS Prussia Cove. She has a number of competition successes to her name already, both as soloist and chamber musician.
Werning performed William Walton's Viola Concerto in the final. Her first place win comes with a cash prize of £5,000, a record deal with Champs Hill Records and bookings for recitals as part of the Royal Birmingham Conservatoire's Concert Series and at Birmingham's Symphony Hall.
'I had a wonderful time in Birmingham at the Cecil Aronowitz International Viola Competition and Festival. Preparing so much repertoire and getting the opportunity to perform all of it was invaluable.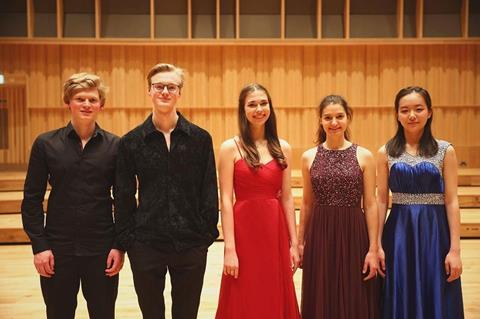 'Everyone was so kind and helpful at the Royal Birmingham Conservatoire, making the experience feel truly like a concert opportunity rather than a competition. My performance in the final was my first time performing with an orchestra and I couldn't have asked for a more positive one!'
Lara Albesano, aged 21 from Italy, took second place and Sào Soulez Larivière, 18 from France, took third. They win £3,000 ad £1,000 respectively. Royal Birmingham Conservatoire student Yue Yu, aged 20 and from China, won a special Sonata award for her semi-final performance of York Bowen's Viola Sonata no.1 in C Minor, winning a Pierre Guillaume viola bow worth £5000 donated by Bishop Instruments and Bows.
Louise Lansdown, the Royal Birmingham Conservatoire's head of strings, commented: 'The young global talent on display as part of this competition was phenomenal and we were blown away at every round. Alongside creative flair we were impressed with the performers professionalism and stamina.
'Emma Wernig's lustrous, rich viola sound resonated throughout the competition complimenting her mature and breathtaking interpretation of everything she chose to play. She is without a doubt a star in the making and we are utterly thrilled to play a part in the launching of her wonderful career.'
Cecil Aronowitz (1916-1978) was a South African viola player who settled in Britain and was much celebrated as a soloist, chamber musician and teacher. He was a founding member of the Melos Ensemble, collaborated extensively with Benjamin Britten and was the Royal Northern College of Music's first head of strings.