As part of the programme, Nicola Benedetti is to host three sessions a week 'Live at Five' on her channels every Tuesday, Thursday and Sunday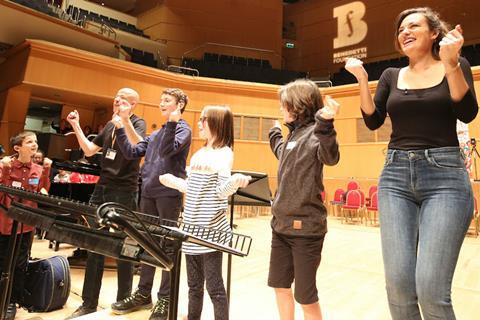 The Benedetti Foundation, formed by violinist Nicola Benedetti, is rolling out a programme of online daily music lessons.
During this period of isolation the Foundation Instagram goes live every day at 12pm BST with one of the tutor team. The session will then be hosted on both IGTV and the Benedetti Foundation Facebook page for anyone who was unable to watch live.
Schedule for 6 – 10 April
MONDAY: Rhythm Games with Elsa
Join Elsa Bradley, percussionist extraordinaire, who will be showing us lots of games to help develop those rhythm skills. No matter what instrument you play, or if you don't play anything at all - grab some pots and pans, or just use your hands and get ready to join in the fun.
TUESDAY: Practice Tips with Stewart
Tune in on Tuesday for practice tips with Double Bassist Stewart Wilson. Stewart will be showing us and talking to us all about the bass. He'll then be sharing his general practice tips for all young instrumentalists - at a time when self-motivated practice is more important than ever, we hope you can join us.
WEDNESDAY: Improvisation with Richard
Jazz expert Richard Michael joins the BF Instagram with a guide to improvising for string players. All you need is the G major scale and the willingness to "have a go". Richard's motto is "mistakes are cool" and if you don't know G major scale, it doesn't matter - you can still join in!
THURSDAY: Beginner Basics with Rachel
Violinist Rachel Cooper will be sharing with us on lots of games and activities for beginner string players. This is ideal for teachers, parents and children, so get your instruments ready to play along and join in.
FRIDAY: Singing with Lucinda
Kodaly expert Lucinda Geoghegan joins us for a singing session to end the week. For teachers and children, she'll be showing us how to sing using solfege and how important it is to hear the dots on the page! Get those voices ready for a good old sing song.


In addition, on Tuesday, Thursday and Sunday Nicky will be 'Live at Five' across her social media channels.
On Tuesdays Nicky will discuss a topic on her YouTube channel
On Thursdays 'Technique with Nicky' will present a topic from what has polled on Tuesday and this will be hosted on Facebook
On Sundays 'Dinner with Nicky' will be hosted live on Instagram and feature an interview with a special guest sharing dinner and drinks, thoughts about the current situation, music making and much, much more


Sessions so far have included:
Wellbeing with Elena
Elena Urioste is a violinist, yogini and founder of Intermission, a programme that combines body, mind, breath and music-making through yoga and meditation. She discusses wellbeing in practice and performance.
Samba with Patrick
Patrick King is Head of Percussion at the Royal Welsh Academy of Music & Drama, Music Director of Children's Musical adventures and Principal Timpanist at Welsh National Opera. He leads a live samba session suitable for all ages and abilities.
Games and Songs with David
Cellist David Munn combines regular teaching at Big Noise Raploch with performances as part of the Red Note Ensemble, Concerto Caledonia and other ensembles. David shares his ideas for teaching and learning the basics through song and games.
Storytelling with Lucy Drever
Lucy Drever is a workshop leader, presenter and singer. She leads workshops and concerts for various arts organisations including Wigmore Hall, BBC Proms, BBC Scottish Symphony Orchestra, London Symphony Orchestra, Aurora Orchestra, Music in Prisons and the Irene Taylor Trust. Lucy's session helps people to open up their imaginations through storytelling in music.
Benedetti Foundation tutors are drawn from across the UK's conservatoires, orchestras and educational institutions and more information and all the sessions can be found at www.benedettifoundation.org
Benedetti has been committed to education projects since the age of 15 and in the past 12 months, Nicola has worked with over 4,000 students and 700 teachers.