A mixture of online and live performances with small, socially-distanced audiences make up the autumn season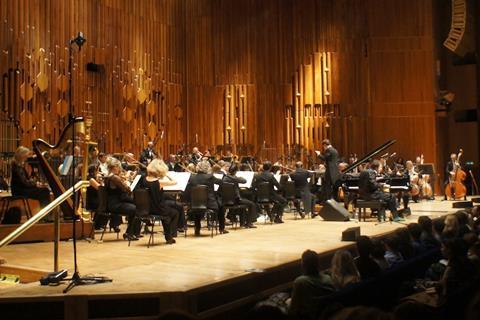 The BBC Orchestras and Choirs have announced the highlights of their upcoming autumn season, which comprises a mixture of online and live performances.
Among the live offerings is the return of the BBC Symphony Orchestra to the Barbican Centre for two concerts with a socially-distanced live audience: the world premiere of the chamber orchestra version of Magnus Lindberg's Accused (6 November), and a performance with physicist Professor Brian Cox, exploring the questions of life, death and the very meaning of our existence.
Elsewhere the BBC Concert Orchestra performs two concerts at the Royal Festival Hall: a French-Finnish programme featuring woks by Poulenc and Sebastian Fagerlund (30 October); and a concert featuring South African cellist Abel Selaocoe and his trio, Chesaba, who will perform (amongst other works) Barak Schmool's '20th Meridian' – an 8 movement cello concerto that has resonances from the African subcontinent (17 November, 20 November BBC Radio 3)
Highlights of the radio and online schedule include a programme from the BBC National Orchestra of Wales and Principal Conductor Ryan Bancroft to mark Black History Month including Four Novelletten by Samuel Colridge-Taylor and The Green Fuse by James B Wilson.
Elsewhere, the BBC Singers are joined by contemporary dance company, East London Dance, for a new collaboration conducted by Chief Conductor Sofi Jeannin at Milton Court, London (23 October). The programme will include Tormis's Curse Upon Iron and Amy Bryce's From First Breath, and will be filmed for audiences to access online.
Read: Philharmonia annouances autumn programme of concerts
Read: London Philharmonic Orchestra returns to Royal Festival Hall this autumn
Read: London Symphony Orchestra moves autumn season to LSO St Luke's
Read: Live music and audience to return to the Barbican
Following his recent BBC Prom from City Halls, newly appointed BBC Scottish Symphony Orchestra Associate Conductor Alpesh Chauhan will conduct the first of eight Thursday concerts with the orchestra at Glasgow's City Halls from 24 September. The concerts will be broadcast live on BBC Radio 3, with four also live streamed online.
There is also a new interactive experience from BBC Research & Development and the BBC Philharmonic, which gives classical music fans the taste of what it might be like to conduct an orchestra. From today, people can 'Pick a Part' on BBC Taster, letting them connect devices like laptops, phones, and tablets together to create a homemade synchronised surround sound. They can then listen to pieces performed by the BBC Philharmonic, and choose to isolate instruments or sections to listen to on each device – or play them all together to get the feeling of what it would be like to sit right in the middle of the BBC Philharmonic itself.
Full details of the BBC Orchestras and Choirs forthcoming projects will be available on their websites in due course:
https://www.bbc.co.uk/concertorchestra
https://www.bbc.co.uk/philharmonic
https://www.bbc.co.uk/symphonyorchestra
·