Four video concerts, featuring orchestral players performing chamber music selected to match the gallery's paintings, will be shown from 10 October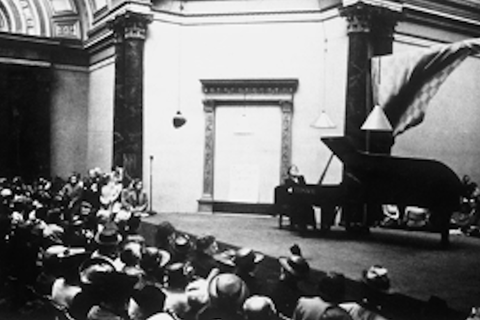 The London Philharmonic Orchestra is to release a video of its members playing in the National Gallery, filmed during lockdown earlier this year.
Closed to the public for the first time in its 196-year history, the Gallery collaborated with the Orchestra in July to bring the performance about.
The resulting video concert, the first of four featuring orchestral players performing chamber music selected to match the paintings, will be shown on 10 October, the anniversary of the first concert performed by Dame Myra Hess, in honour of the pianist who organised the Gallery's famous lunchtime concerts during the Second World War.
Continuing the tradition of playing a concert for an audience living through a time of crisis, the musicians performed in the Gallery's Barry Rooms, the same location as the wartime lunchtime concerts.
But unlike those concerts in front of a live audience in a picture-less gallery that remained open despite the bombs falling, these post-Covid-19 concerts will be watched from homes.
In the first broadcast on Saturday, Dvořák's Terzetto in C major, Op. 74 is performed as a response to Two Peasant Scenes by Giuseppe Maria Crespi and Lake Keitele by Akseli Gallen Kallela.
Subsequent concerts to be broadcast over the next few weeks include Haydn's String Trio in C major paired with Madame de Pompadour at her Tambour Frame by François-Hubert Drouais; and Dohnanyi's Serenade for String Trio, Op.10 with Velásquez's The Toilet of Venus and Klimt's Portrait of Hermine Gallia.
Rossini's Sonata for Strings is matched with Corot's Italian Woman, Canaletto's Regatta at Grand Canal and William Hogarth's The Graham Children.
Read: London Philharmonic Orchestra returns to Royal Festival Hall this autumn
Read: London Symphony Orchestra moves autumn season to LSO St Luke's
Read: Philharmonia announces autumn programme of concerts
Read: BBC orchestras and choirs announce autumn programme highlights
The concert videos include a full performance of each piece alongside interviews with the Gallery's Director Dr Gabriele Finaldi and the London Philharmonic Orchestra's former Chief Executive Timothy Walker. To accompany the performances, there is also a behind-the-scenes film with interviews with some of the musicians about how the project came to fruition.
The first performance will go live on Saturday morning on the Gallery's website and YouTube channel https://www.nationalgallery.org.uk/stories/lpo and the following three performances will be streamed on their YouTube channel at 1pm on 15, 22 and 29 October.
David Burke, Chief Executive of the London Philharmonic Orchestra, says: 'The London Philharmonic Orchestra is thrilled to be working with the National Gallery on this exclusive video series. Inspired by Myra Hess's lunchtime concerts during the Blitz, we hope this collaboration between two of London's major arts organisations can bring a moment of musical respite not only in London, but to audiences all over the world.'
Dr Gabriele Finaldi, Director of the National Gallery, London, says: 'Painting and music are the most natural of partners so this is a very happy collaboration between the National Gallery and the London Philharmonic Orchestra. The Myra Hess concerts at the Gallery have acquired an almost mythical status for us and it was music that carried us through the war years. So the opportunity to do something with the London Philharmonic Orchestra during the Covid closure to bring music back to the Gallery and to remember those years when music played such an important role for the population has been an extremely pleasing thing to do.'