Total prize pool worth $300,000 includes a two-year paid residency for the winning quartet and cash award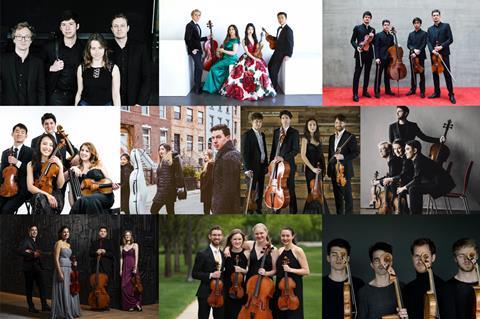 The triennial Banff International String Quartet Competition has named the ten string quartets shortlisted to take part in its 2019 live rounds. The ensembles will compete in five rounds from 26 August to 1 September 4 at the Banff Centre in Alberta, Canada.
First prize, worth over $150,000, includes a cash award of $25,000 in addition to a three-year artistic and career development programme and a two-year paid residency at the Meadows School of the Arts in Dallas, Texas.
The ten quartets are:
Callisto Quartet (USA)
Eliot Quartett (Germany/Russia/Canada)
Marmen Quartet (UK)
Omer Quartet (USA)
Quatuor Agate (France)
Quatuor Elmire (France)
Ruisi Quartet (UK)
Ulysses Quartet (Canada/USA/Taiwan)
Vera Quartet (Spain/USA)
Viano String Quartet (Canada/USA)
The preselection jurors who chose the ten quartets from the 37 who applied were Christopher Costanza (St. Lawrence String Quartet); Jonathan Crow (New Orford Quartet and Concertmaster of the Toronto Symphony Orchestra); and Milena Pajaro-van de Stadt (Dover Quartet and first prize winner of BISQC 2013).
'My fellow jurors and I worked hard to produce a list of which we are proud, but those who did not make the list deserve to be complimented for their fine playing and obvious hard work,' said Costanza.
'This younger generation of quartets is raising the bar and assuring a bright future for chamber music – I'm excitedly encouraged and optimistic that great music will not only survive but will thrive through their continued devotion to all things musical!'
The live competition will be judged by:
Gillian Ansell (co-artistic director of the Adam Chamber Music Festival)
Martin Beaver (Tokyo String Quartet and professor of violin and chamber music at the Colburn Conservatory of Music in Los Angeles)
Adrian Fung (Afiara Quartet)
David Harrington (Kronos Quartet); Nobuko Imai (Vermeer Quartet)
Philip Setzer (Emerson String Quartet)
Ursula Smith (Zehetmair String Quartet and cello professor at Guildhall School of Music and Drama).
'It's always a huge joy to see these young musicians succeed and see their careers take flight at Banff Centre,' said Barry Shiffman, director of the competition.
'The Banff International String Quartet Competition is like the Olympics of chamber music, we can hardly wait to welcome these wonderful artists to Banff.'
Past winners of BISQC include the Rolston Quartet (2016), which has performed over 100 concerts since winning the 2016 competition in 2016, including its recent Carnegie Hall debut; the Dover Quartet (2013); the Cecilia String Quartet (2010); the Tinalley String Quartet (2007); the Jupiter String Quartet (2004); the Daedalus Quartet (2001); the Miró Quartet (1998) and, the St. Lawrence String Quartet (Canada, 1992).