The Canadian-based ensemble won the Banff International String Quartet Competition in 2010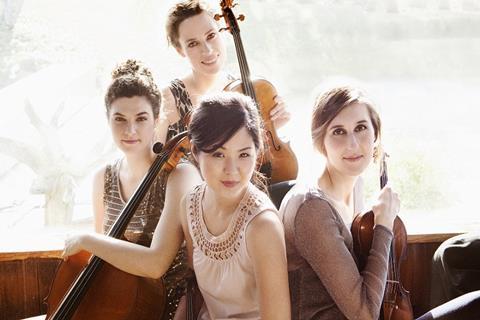 The Cecilia String Quartet is to give its final performances as an ensemble during the 2017-18 season. Winner of the 2010 Banff International String Quartet Competition, the Canadian-based group is currently the James D. Stewart Quartet-in-Residence at the University of Toronto's Faculty of Music.
The quartet's last season will include performances at the Festival of the Sound, University of Toronto, Ottawa Chamber Music Society, and Jeffery Concerts, in addition to two European tours. Group violinists Min-Jeong Koh and Sarah Nematallah, and violist Caitlin Boyle will be joined by cellist Claire Bryant, who replaces quartet member Rachel Desoer from October 2017
'The members of the quartet are extremely grateful to all the people, organizations, and audiences that have shown them so much generosity and support over the years,' reads a statement on the quartet's website. 'They would especially like to thank the Canada Council for the Arts, the Ontario Arts Council, and the Toronto Arts Council for their generous support of CSQ tours, commissions, and projects. Although the Cecilia String Quartet's time together is coming to an end, its members will remember their work together fondly, and will continue to contribute to the Canadian Arts scene as they move forward in their performance careers.'
Prize-winners at competitions including Osaka (2008) and Bordeaux (2010), the Cecilia Quartet has made recordings of Dvořák in 2012, Janáček, Berg, and Webern in 2013, and Mendelssohn in 2016. The group is the founder of Xenia Concerts, a series catering to children on the autism spectrum and their families.
Photo: Lisa-Marie Mazzucco