The Shanghai Symphony Orchestra confirms plans for its 2020/2021 season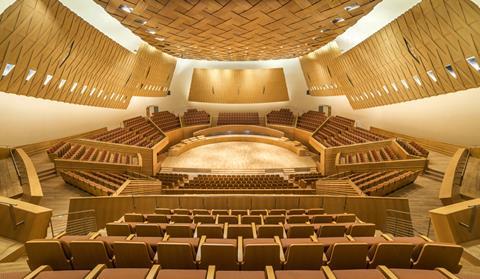 Announcing the details of its 2020/2021 season, the Shanghai Symphony Orchestra (SSO) and its music director Long Yu said they would welcome back live audiences from 1 September.
The Shanghai Symphony Hall will initially operate at 30 per cent capacity, with plans for larger numbers of spectators before the end of the year.
The city's 24 million residents were placed under strict lockdown in February, and although nearly 5,000 deaths from Covid-19 have been recorded in mainland China, only six were reported from Shanghai. A Disneyland resort on the outskirts of the city reopened in May.
Read: Tan Dun and Eldbjorg Hemsing: the folk connection
Read: Yo-Yo Ma and Youth Music Culture Guangdong Perform Bach
Read: 2020 Shanghai Isaac Stern International Violin Competition delayed until next year
Chinese violinist Ning Feng will be the SSO's artist in residence, with performances of concertos by Beethoven, Korngold and Saint-Saëns. Liu Ming, winner of the 2019 Harbin Competition, will play Mendelssohn's Violin Concerto.
The orchestra will begin the season with a performance of Barber's 'Adagio for Strings' in tribute to those who have helped in the fight against Covid-19 and in memory of those who have died.
In a press release, the SSO said it had decided to offer a spotlight this season to the music of Chinese composers, many of whom are little known outside the country. Works by the likes of Tan Dun, Julian Yu, Ye Xiaogang and Huang Ruo will be heard alongside the first half of the SSO's two-year Mahler cycle and a complete survey of Beethoven's piano concertos with pianist Krystian Zimerman.