Up to twelve string players at any stage of their career will be selected for the ensemble's first ever winter residency, to be held 19-29 January 2022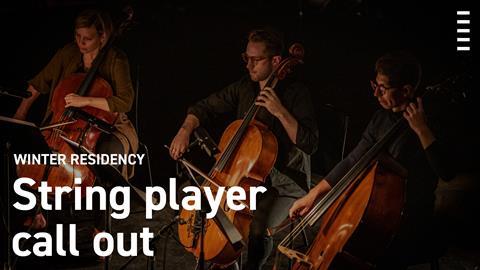 Manchester Collective have opened applications for its first ever winter residency, where string players will have the opportunity to work alongside musicians, mentors and workshop leaders over ten days in January 2022.
The residency is to be held from 19-29 January 2022 in Rhosygilwen, a country house in rural Wales, and will offer up to twelve selected string players a combination of professional development workshops and one-to-one sessions. These will include contemporary musicianship workshops involving choral singing, percussion and rhythm training and improvisation, extra-musical training including disciplines such as yoga, movement and public speaking, as well as the chance to present and share work to industry professionals, colleagues and experts. Following its conclusion, the ensemble will offer three participants a Manchester Collective fellowship position for the duration of 2022.
Applications are open to string players over the age of 18, who are based in the north of England. The deadline to apply is 11:59pm Sunday 14 November 2021. The online application form can be found here
Known for its bold ventures into new repertoire, Manchester Collective collaborates with composers and artists, commissioning major works by Edmund Finnis, Hannah Peel, Lyra Pramuk, and Laurence Osborn. Recent highlights include a Royal Albert Hall debut as part of the BBC Proms Festival and release of its debut album The Centre Is Everywhere.
Read: Manchester Collective: The Centre Is Everywhere
Read: Awards for Young Musicians announces new round of funding
Read: Opinion: Relaxed body, focused mind
Listen: The Strad Podcast Episode #7: Hannah Roberts on studies and etudes