The violinist accuses the German government's pandemic reposnse of showing 'downright disregard' for musicians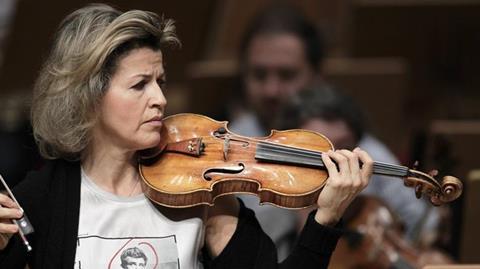 Anne-Sophie Mutter has been a vocal critic of the approach taken by the German government towards arts and culture during the pandemic, often engaging with officials directly.
However, in an interview published yesterday the violinist said her appeals had fallen on deaf ears.
'I hoped that direct communication with politicians would get things moving,' she told Welt am Sonntag. 'But it wasn't to be.'
According to Mutter, numerous studies that have suggested safe ways of bringing audiences back to live music events have been ignored by the German government. The country's current lockdown restrictions, under which no indoor audiences are permitted, are expected to remain in place until at least 2 June.
Read Anne-Sophie Mutter calls on Germany government to help musicians
Read Concert halls safe at 50 per cent capacity, reports German study
Read Berlin survey paints worrying picture for freelance musicians
'The lives of artists have been so restricted this year that one can speak of a professional or cultural ban,' she continued, arguing that politicians had become 'removed from culture to the point of downright disregard.'
'The second tragedy is that a generation of young musicians will think twice before pursuing a path that was difficult enough in the first place, and has now received so little attention.'