The experiments at the Dortmund Konzerthaus suggest a checkerboard-style seating arrangement would be sufficient to keep audience safe from Covid-19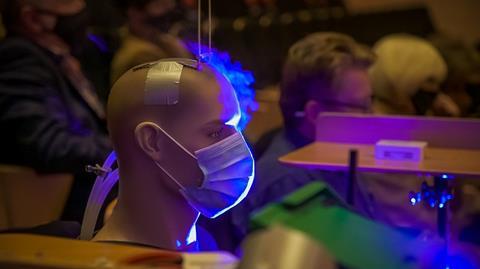 A new study co-commissioned by the Dortmund Konzerthaus has shown that concert halls can operate at 50 per cent capacity with 'almost no risk' of infection from Covid-19. The study, run in collaboration with the Fraunhofer Heinrich Hertz Institute and the Federal Environment Agency, took place in the Konzerthaus and shows that a 'checkerboard' pattern of seating in the auditorium would be enough to ensure audience safety.
In the study, conducted over three days, a dummy equipped to simulate human breathing was placed at strategic points around the auditorium, sometimes with a mask and sometimes without. The aim was to track the spread of droplets and carbon dioxide from the dummy in the atmosphere. The study concluded that:
• in collaboration with the hall's own air conditioning and supply of fresh air, plus the wearing of a face mask, there was practically no circulation of droplets in the atmosphere around the dummy
• the large air volume of the auditorium ensures a good dilution of droplets from the human respiratory system
• the seats on either side of the dummy were free on contamination, although the study concluded that the seat directly in front of an audience member should always be kept empty
• the presence of many people in the hall actually promoted the movement of air upwards, owing to the body heat of the spectators
• masks should always be worn in the corridors, foyers and cafes, where the ventilation works differently from that of the auditorium. All doors to the concert hall should remain open to allow additional cross-flow ventilation.
Read: Study shows 'no increased risk to orchestral musicians' from concerts
Read: Eight Austrian orchestras call for concerts to resume
Read: How to put on a live concert in the time of Covid-19
Researchers indicated that the conclusions drawn from the Konzerthaus Dortmund study would also hold true for other auditoriums of comparable size, and that the Fraunhofer Institute could carry out studies on other halls with relatively little effort. Konzerthaus director Raphael von Hoensbroech told the BR-Klassik radio station that the aim of the study was to create a scientifically sound basis for decision making by politicians: 'We want to contribute to the fact that concert halls and theatres will be able to admit a sufficient audience when they open.'
Photo: Simeon Klein