'And if that is not the case,' Mutter said, 'then we have to take to the streets.'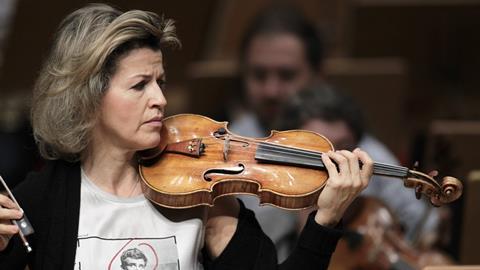 German violinist Anne-Sophie Mutter has spoken out against Covid-19 restrictions on live performance, and criticised the relief package offered to musicians by her country's government.
'I find this unequal treatment outrageous,' Mutter said in an interview with broadcaster Deutsche Welle. 'I have no understanding at all for the fact that recently, in Bavaria, they were able to serve roast pork and beer to 1000 people. But then a cabaret artist comes on stage and only 200 people can remain in the hall. It lacks any logic.'
Restrictions to tackle the spread of Covid-19 in Germany continue to evolve rapidly, and are complicated by the fact that each of the country's 16 states is able to impose its own rules. In general, however, curbs on cultural events have been tighter than those on the hospitality industry.
Asked if solution lay in new technologies, Mutter was pessimistic. 'It may be wonderful to post something from time to time to stay in contact with the outside world,' she said. 'But if course this is not a means of survival … the virtual world, unfortunately, doesn't help us.'
Mutter explained that all musicians faced a difficult future, with fees greatly reduced even for those in work. She called on Monika Grütters, the federal commissioner for culture and media, to increase the amount of financial aid available to those in need. 'And if that is not the case,' Mutter said, 'then we have to take to the streets.'