With streaming and other television footage, this year's competition has been turned into a festival-like experience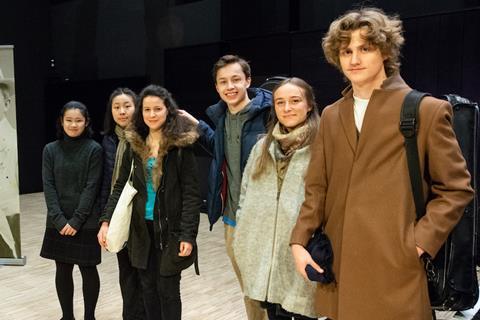 After five days in Odense, the juries of this year's Carl Nielsen Competition have announced their semi-finalists. The six violin candidates are:
Johan Dalene (18, Sweden)
Anna Agafia Egholm (22, Denmark)
Michael Germer (16, Denmark)
Marie-Astrid Hulot (21, France)
Hina Maeda (16, Japan)
Belle Ting (18 Canada)
The semi-finals take place on 27 March, while three finalists will battle it out in a 29 March prefinal and 31 March grand final, both times playing a 50min programme with orchestra.
The first prize winner will receive a cash award of €12,000, a CD recording with the Odense Symphony Orchestra on Orchid Records, and a minimum of ten concert appearances with top European orchestras.
Led by Nielsen Competition president, and former winner (1992) Nikolaj Szeps-Znaider, the violin jury team consists of Eugen Tichindeleanu, Albena Danailova, Sergey Khachatryan, Nurit Bar-Josef, Sally Beamish, Ingrid Fliter, Kathryn Enticott and Tobias Niederschlag.
This year's competition has been transformed into a festival-like experience, with audiences around the world tapping into nielsen2019.medici.tv for live streaming, replays, interviews and behind the scenes footage.
The Carl Nielsen International Competitions dates back to 1980 when the first violin competition was held in Odense, Carl Nielsen's city of birth. Clarinet and Flute competitions were added in 1997 and 1998 respectively. Until now the individual competitions have taken place in rotation once every four years but this year, for the first time, all three competitions are taking place side by side.
For more information visit the Carl Nielsen International Competition website.