Running from 31 March to 10 April 2022, the contest features Violin, Clarinet and Flute categories and a new integrated programme of mentoring, coaching and networking opportunities entitled Espansiva!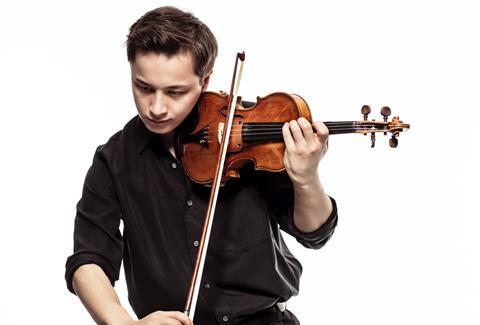 The Carl Nielsen International Competition has launched its 2022 edition, with categories for Violin, Clarinet and Flute.
Running from 31 March to 10 April next year in Odense, Denmark, the contest is expanding its format to include a new informal mentoring, coaching and networking scheme for all competitors, named 'Espansiva!' after Nielsen's Third Symphony.
'The world has changed and this means that as competition organisers we should also adapt,' said competition president, Nikolaj Szeps-Znaider. 'While our priority is of course to find the brightest and most talented young musicians of today, we also feel it is vital to create an off-stage experience that benefits all the participants who come to Odense.
­'There was already something particularly special about the atmosphere surrounding the competition in 2019. With three competitions running parallel to each other there was a buzz in the air and a feeling more akin to a festival. It is this atmosphere that we wish to build on by creating an accompanying platform where the participants have an opportunity to meet their future colleagues and the music world's movers and shakers, all in an informal and relaxed setting.'
Participants will be offered private accommodation for the entire duration of the competition to ensure they are able to engage in the full programme without additional expense. Every evening there will be the opportunity to relax and eat together, with informal music-making and entertainment, as well as the chance to connect with industry professionals involved in the competition.
Read: Johan Dalene wins violin section of Nielsen Competition 2019
Read: Postcard from Odense - 2019 Nielsen Competition
Heading the jury of the three competition divisions in 2022 will be Noah Bendix-Balgley (violin), Karl-Heinz Schütz (flute) and Yehuda Gilad (clarinet). Artistic advisors Emmanuel Pahud (flute) and Martin Fröst (clarinet) will actively participate in the selection process, and artistic managers from the leading Nordic orchestras will also be involved as jury members, mentors or moderators, bringing with them solo opportunities for the winners.
The full violin jury comprises:
Noah Bendix-Balgley, concertmaster, Berlin Philharmonic
Eugene Tchindeleanu, concertmaster, Odense Symphony Orchestra
Albena Danailova, concertmaster, Vienna Philharmornic
Tasmin Little, violinist
Judith van Eeckhout, artistic director, Brussels Philharmonic
Mark Williams, chief artistic officer, The Cleveland Orchestra
The first prize winners of the Violin, Clarinet and Flute categories will each receive €12.000 and a recording with the Odense Symphony Orchestra on Orchid Classics.
Applications for violinists, clarinetists and flautists under the age of 30 will open on 15 August 2021 and close on 30 October. See carlnielsencompetition.com for full details.
The winners of the 2019 Nielsen Competition were violinist Johan Dalene, flautist Joséphine Olech and clarinettist Blaz Sparovec.
Read: Johan Dalene: Life Lessons
Read: Session Report: Violinist Johan Dalene makes his recording debut