Korean cellist Gaeun Kim wins $13,000 and a host of future performance opportunities in the US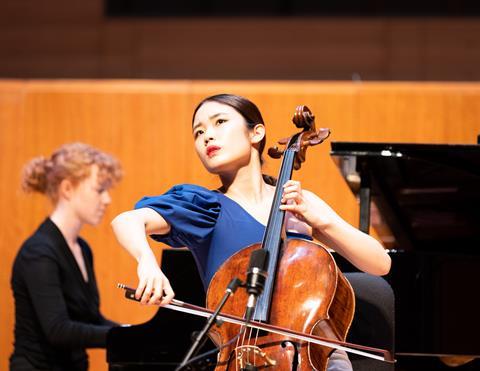 The semifinal and final rounds of the Irving M. Klein were hosted by the California Music Center (CMC) in San Francisco on the 4 and 5 June, following which cellist Gaeun Kim was named winner of the competition's 37th edition. Kim won $13,000, as well as performance contracts with the Peninsula and Santa Cruz Symphonies, Gualala Arts Chamber Music Series and Music in the Vineyards. Kim also won the Pablo Casals Prize for the best interpretation of Bach.
Kim has enjoyed extensive competition success, having received both first prize and the special award in the 2012 Antonio Janigro Competition, and has won first prizes in the 2014 Liezen International Competition and the 2015 David Popper International Cello Competition. She was selected as a 'Samsung Rising Star' and one of '30 rising stars in Culture & Arts Industry of Republic of Korea'. Gaeun was the youngest participant in the 2018 Isang-Yun International Competition and the 2019 XVI Tchaikovsky International Competition.
Kim is a student of Richard Aaron at the Juilliard School. Recently she was one of six winners of the 'Classe d'Excellence de Violoncelle', led by cellist Gautier Capucon with whom she also studies, and served as the Louis Vuitton Foundation Artist until 2021.
Second prize of $6,300 was awarded to 22-year-old violinist Jaewon Wee. The prize also includes performance contracts with the San Jose Chamber Orchestra, among others. She was also awarded also won the Weiss prize for Best Performance of the Commissioned Work.
Third Prize was awarded to 18-year-old violinist Andromeda Kepecs, who received $2,500. She attended the Menlo School and studies with David Chernyavsky. She will enter Columbia University to study with Li Lin in the Columbia-Juilliard Program.
Joint-fourth prize went to Canadian violinist Jacques Forestier (17) and violinist Hayoung Choi (20), who each received $1,500. Unranked semifinalists violist Emily Hwang (16) and cellist Han Lee (22) received $1,000.
The jury for the 2022 competition included Richard Aaron, Christopher Costanza, Francesca dePasquale, Gloria Justen (2022 composer), Daniel Stewart, Ian Swensen, and Barbara Day Turner.
Previous winners of the Klein Competition include Jennifer Koh, Oliver Herbert, Frank Huang, Robert deMaine, Tessa Lark, Nikki Chooi, Francesca DePasquale, Gloria Justen, Mihai Marica, Teng Li, and David Requiro. In 2021 violist Yuchen Lu won first prize.
CMC inaugurated the Irving M. Klein International String Competition in 1986 following the death of its founder, cellist and chamber musician Irving M. Klein. As well as producing the annual competition, CMC also produces concerts year-round featuring laureates, and masterclasses and community engagement activities around the San Francisco Bay Area.