After termination of their salaried positions on 10 May, the members of the DaPonte Quartet have been reinstated and will work with the newly-formed DaPonte String Quartet Foundation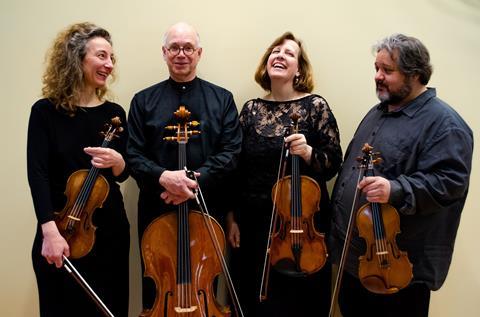 The DaPonte Quartet has come to a resolution that sees its previously fired members rehired and the Friends of the DaPonte String Quartet replaced. This follows the termination of the members' salaried positions by the Friends via letter on 10 May.
The resolution was reached with help from two attorneys. 'What these musicians want is to play and bring their music to audience, not be entangled in litigation,' said Eva Frank, who with Claire Robinson represented the quartet pro bono.'This is an excellent outcome,' she told the Press Herald.
Frank has not provided details about how the resolution was reached but said the former board members who had pushed to terminate the musicians agreed to step down, as did the executive director, Erica Ball. Frank also declined to share any documentation of the agreement.
The quartet comprises violinists Ferdinand 'Dino' Liva and Lydia Forbes, violist Kirsten Monke and cellist Myles Jordan. Jordan said neither he nor the other musicians could discuss the terms of the agreement, but said the musicians are ecstatic: 'I think this last month has taken time off all our lives'.
Following the resignation of the Friends of the DaPonte String Quartet, the nonprofit organisation that supports the quartet's concerts and educational activities will now be known as the DaPonte String Quartet Foundation. The foundation will led by a new board of directors chaired by David Shipman. Violinist and co-founder of the DaPonte Quartet Liva will serve as administrator for the foundation.
The former board has relinquished all claims to unspent donations, and the donations will now be under the control of the new foundation, which will help the new board regain its financial footing.
The former Friends of the DaPonte String Quartet was originally formed to support concerts and programming of the quartet and handle finances. Newly-hired executive director of the Friends Erica Ball wrote the letter terminating the salaried positions of the quartet members, who were being paid $40,000 a year, in favour of a change of artistic direction and rebrand to Chamber Music Maine.
Members of the quartet became aware that the Friends were moving to exert more control over the musicians, especially with regard to repertoire, and specifically an emphasis on diversifying the programming. 'They said our music is insufficiently diverse in its representation of women and people of colour,' cellist Jordan said. 'It's true that most of what we perform is the music of European dead white men, but that's what we're trained to do.'
The quartet is busy rehearsing for upcoming concerts this summer, including its 30th anniversary celebration concert on 23 June at 7:30pm, at the Union Church in South Bristol, ME.