The Gala Presentation takes place on Sunday 23 May at 5pm EDT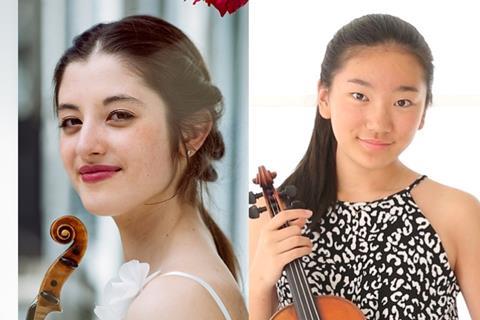 The Menuhin Competition Richmond 2021, which was held virtually this year, has announced its prizewinners.
In the Senior category, first prize went to the 18-year-old Spanish violinist María Dueñas, who receives USD $20,000, plus a 2-year loan of a golden period Stradivarius violin from the private collection of Jonathan Moulds through the Beare's International Violin Society, as well as a bow made by Christophe Landon.
Dueñas, who is from southern Spain, studies with Boris Kuschnir at the University of Music and Performing Arts Graz and the Music and Arts University of the City of Vienna (MUK). About her 1st Prize win, María said, 'Dreams make no distinction about nationality or social background. They are there to be fought for and to be reached. As a winner of the Competition in the Senior division Richmond 2021, I´m becoming part of Lord Yehudi Menuhin's legacy, one of the greatest honours I could ever think of. It's like touching the moon with the tip of my fingers!'
The 20-year-old German violinist Simon Zhu won Second Prize of USD $15,000 plus a 2-year loan of a fine old violin from Christophe Landon Rare Violins, Inc. Third prize of USD $10,000 was awarded to the 18-year-old American-Singaporean violinist Hana Chang. Fourth prize of USD $5,000 went to the 21-year-old violinist from Illinoir, Karisa Chiu. The Mozart Prize of USD $1,500 was awarded jointly to Simon Zhu and Hana Chang, while the Composer Award of USD $1,500 went to Karisa Chiu and 22-year-old violinist Emily Shehi, who lives in Philadelphia.
In the Junior category, first prize went to the 15-year-old violinist Keila Wakao, who lives in the Boston area. She receives USD $10,000, plus a 2-year loan of a fine old Italian violin, sponsored by Florian Leonhard Fine Violins London, New York. In addition to the 1st Prize, Keila was also awarded the Junior Composer Award of USD $1,000, sponsored by the Richard S. Reynolds Foundation.
Wakao studies with Donald Weilerstein and Soovin Kim from the New England Conservatory of Music. (She also studied with the late Joseph Silverstein, who accepted Keila as a student when she was six years old.) On her win she says: 'When I was 8 or 9 years old, that's when I started watching the Menuhin Violin Competition. As I got older, I was so inspired by the musicians on the Competition, and I wanted to see myself there, and now, even through this online experience, I've learned so much, and it's been such an exciting process.'
Read Menuhin competition finalists announced
Watch Junior Semi-Finals from the Menuhin Competition Richmond 2021
Read Menuhin competition announces Junior and Senior semi-finalists
The 15-year-old Australian violinist, Edward Walton, won 2nd Prize of USD $7,500 plus a 2-year loan of a fine old violin from Christophe Landon Rare Violins, Inc.. The 15-year-old violinist Hannah Wan Ching Tam, from Hong Kong, won 3rd Prize of USD $5,000. The 14-year-old American-Japanese-Taiwanese violinist Kento Hong won 4th Prize of USD USD $4,000, while the 15-year-old South Korean violinist Boha Moon won 5th prize of USD $3,000.
Gordon Back, Menuhin Competition Artistic Director, said he continued to be astounded by the level of performance from the Competitors, and he felt that 'all are winners in my view.' He went on to say, 'The way they have risen to the challenges posed by an online Competition has been truly inspiring and I want to thank them, their parents, teachers and supporters for all the effort that has gone into their participation. The jury expressed their admiration of the artistry of these young performers, and all confirmed how difficult it was to choose our two first prizewinners from such great performances. I am so proud that Keila Wakao and María Dueñas will represent the Menuhin Competition as their careers develop.'
The Gala Presentation on Sunday 23 May at 5pm EDT concludes this year's Menuhin Competition Richmond 2021, with highlights of the week's guest concerts and performances by the winners of the Junior and Senior 1st Prize. The programme features selections from the Richmond Symphony's live concerts in Richmond on 14 and 15 May, including Angelo Xiang Yu with the Symphony performing Mason Bates' Bound Away.
Menuhin Competition Rounds can be viewed on the Menuhin Competition website and YouTube Channel: