The seemingly unstoppable Spanish-Austrian 18-year-old violinist has another competition victory under her belt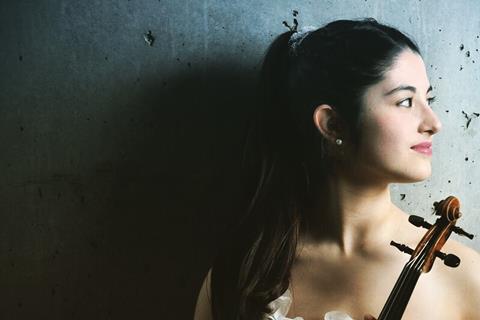 Violinist María Dueñas has won the Grand Prize at the Viktor Tretyakov Violin Competition in Krasnoyarsk, Russia. As well as her US$20,000 cash prize, she also won the Vladimir Spivakov Prize, Valery Gergiev Prize, Moscow Philharmonic Society Prize, Denis Matsuev Prize, Pavel Kogan Prize, Vadim Repin Prize and Prize to the best Paganini Caprice. This follows her victories at the Menuhin Competition, Senior Division in May 2021, Rheingau Music Festival award in April 2021 and Getting to Carnegie Competition in January 2021.
Other prizewinners of the competition are:
1st prize: Eugene Kawai (Japan)
2nd prize: Jakow Pavlenko (Ukraine / Germany) and Kenneth Naito (United States of America). Pavlenko also receives the Yuri Bashmet and Valery Gergiev special prizes. Naito was also awarded with the Vadim Repin special prize.
3rd prize: Pyotr Fedotov (Russia). He also receives the Alexander Uss and Denis Matsuev special prizes.
4th prize: Kumi Shimizu (Japan / Denmark)
2021 marks the second iteration of the competition, following its inaugural year in 2018, won by Russian violinist Sergey Dogadin. The jury consisted of Viktor Tretyakov, Natalya Likhopoy, Boris Kuschnir, Maxim Vengerov, Sergej Krylov, Mikhail Benyumov, Ilya Kaler, Bruno Monsaingeon and Kristjan Jarvi.
Watch: María Duenas's prize-winning performance at the 2021 Menuhin Competition
Read: Violinist María Dueñas scoops €15,000 Rheingau Music Festival award
Read: Semi-finalists selected for Joseph Joachim Violin Competition
Listen: The Strad Podcast Episode #12: Maxim Vengerov on Ravel