German cellist Philipp Schupelius wins €10,000 for his programme commemorating Pablo Casals' timeless messages of peace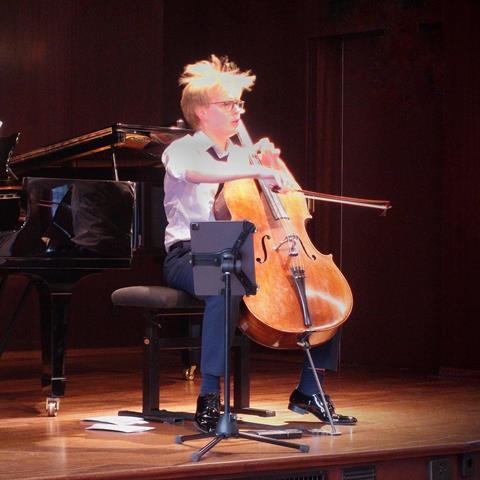 Read more news articles here
The 2023 Fanny Mendelssohn Advancement Award has been awarded to Philipp Schupelius. Awarded annually, the prize of €10,000 is given to a young musician under the age of 25 who presents a programme centred around a creative concept.
The 19-year-old German cellist displayed a programme called Pau or Fiddling While Rome Burns, exploring the contribution music can make during times of war. The programme focuses on the life's work and ideology of Catalan cellist Pablo Casals, the 50th anniversary of his death will be commemorated in 2023.
In addition to the cash prize, Schupelius will have the opportunity to record his debut album based on his proposed programme.
'It is really a great honour to win this great prize, which not only focuses on the music but also on the content,' said Schupelius. 'The concept I presented today is very close to my heart and I look forward to recording a CD of it, especially at this time.'
'It was a competition with a great deal of potential and very exciting contributions - especially in terms of content and programme,' commented Prof. Dr. Dieter Rexroth, chairman of the jury for the Fanny Mendelssohn Advancement Award. 'Philipp Schupelius's concept stood out due to its relevance.'
Schupelius's project will spotlight Casals' timeless messages of peace. 'The only weapons I've ever owned are my cello and my baton,' the Catalan cellist once said. In addition to works by Casals, Schupelius's programme includes music by Bach, Olivier Messiaen, Beethoven, Mahler and Ysaÿe, in order to explore the questions, 'What contribution can music make?' and 'What can music do against a war?'
Chaired by Rexroth, the jury for the prize included Ursula Haselböck (artistic director Festspiele MV), Martin Hoffmeister (cultural and music editor), Sarah Kesting (artistic director Schloss Elmau), Christina Khosrowi (management Daniel Hope) and Alexander Krichel (pianist) on. Schupelius's nomination for the prize came from violinist Daniel Hope.
Born in Berlin in 2003, Schupelius began playing the cello at the age of eight with Ulrich Voss. From 2018 to 2022 he studied at the Julius Stern Institute of the Berlin University of the Arts with Wolfgang Emanuel Schmidt, with whom he is currently studying at the Kronberg Academy. In 2020 he won the Manhattan Music Competition, the Discovery Award, International Classical Music Awards and second prize at the Anna Kull International Cello Competition. He was a candidate at the 2022 Queen Elisabeth Competition in Brussels.