The violinist and educator touched many lives through his work in Latin America and Italy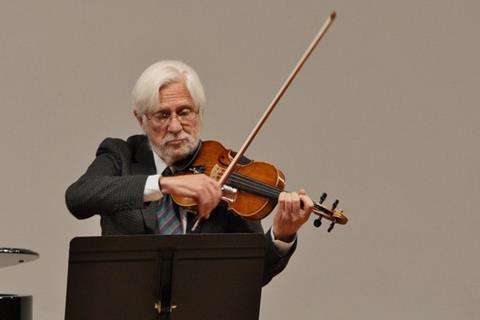 Read more news articles here
Uruguayan violinist Jorge Risi died on Monday 17 October aged 82.
A violinist and educator, Risi was appointed concertmaster of Mexico City Philharmonic Orchestra in 1980 before returning to Uruguay to work as president of Sodre, the office of the Ministry of Education and Culture.
In a statement on Twitter Sodre said: 'We regret the sad news of the death of Mtro. Jorge Risi, a central person in the development of the last decades of our institution. He was president of the Sodre, conductor of the Orchestra and concertmaster, but above all he was a beloved maestro'.
Born in Uruguay on 1 January 1940, Risi was also principal concertmaster of the Montevideo Musical Symphony, the Bogotá Philharmonic, Rome Symphony Orchestra, and Italian Radio and Television Orchestra. In a quote on his website, Risi said: 'Thinking and playing the violin are activities that are usually confused. As very often we violinists concentrate on playing it and not thinking about it too much. There are some reflections made over many years and that I have tried to divide, for clarity, into separate areas that, however, are always played.'
Lamentamos la triste noticia del fallecimiento del Mtro. Jorge Risi, una persona central en el desarrollo de las últimas décadas de nuestra institución.
Fue presidente del Sodre, director de la Orquesta y concertino, pero sobre todo fue un querido maestro.
@MEC_Uruguay pic.twitter.com/xc5IvKi147

— Sodre (@Sodre_Uruguay) October 17, 2022
Teaching and studying the violin formed an intergral part to Risi's work teaching at various institutions including heading up the music department of Uruguay's National University. In addition to his role as president of Sodre, Risi wrote many articles and papers about violin playing and its impact on the minds and bodies of musicians. In May 2021 he wrote two pieces about memorisation saying: 'Violinistically speaking: only when the hands have "sensory appetite" to do something (and this implies without exception movement) only when from the repetition they have acquired that physical knowledge will we begin to approach what we were looking for musically.'
As news of Risi's death spread, many musical institutions around the world have taken to social media to express their sympathy. Bellas Artes wrote: 'He was fundamental for the formation of many violinists throughout Latin America, and our teacher during the first two years of the School of Fine Arts'.