Jaren Ziegler will represent strings at the competition Grand Final, which will be broadcast on 9 October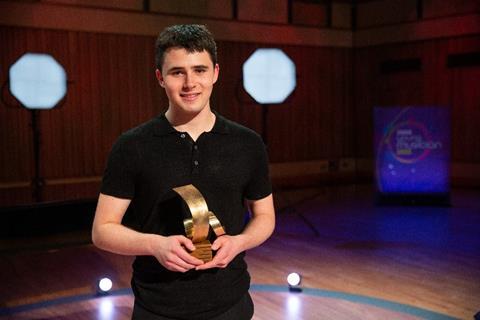 Read more news articles here
16-year-old viola player Jaren Ziegler, from London, has won the Strings Final of BBC Young Musician 2022 and will progress through to the Grand Final of the competition. He is the first finalist to be announced as part of the 2022 edition of the contest.
In his victorious performance, recorded in early July at Saffron Hall in Saffron Walden, Ziegler performed a programme comprising Pocket Concerto by Garth Knox, Violin Sonata no.1 by Schumann and Le Soir by Vierne.
Ziegler is a year 11 student at University College Schoo (UCS) in London. He started playing the viola at age six and studies with Jacky Woods at the Junior Royal Academy of Music. As a member of the international string ensemble, LGT Young Soloists, he has toured abroad and recorded at Abbey Road Studios. In 2021 Jaren was the youngest semi-finalist in the Cecil Aronowitz International Viola Competition. His other passion is football, playing for his local team. Jaren has been kindly loaned a Scarampella Viola through the Beare's International Violin Society.
'I would say these past few months have been the toughest of my life as I have never worked as hard,' said Ziegler in an interview with UCS earlier this year. 'However, it is extremely rewarding to make it through to the Strings Final and it completely validates all the work.'
The other strings finalists were violinists Aki Blendis (14); Clara Sophia Wernig (16); Dawid Kasprzak (16); and Edward Walton (16). A decision was made by the strings final panel of judges, which included viola player Philip Dukes, and violinist Jennifer Pike – herself the BBC Young Musician winner in 2002. They joined organist, director of music at Pembroke College, and broadcaster Anna Lapwood, chair of all the BBC Young Musician 2022 Category Final judging panels.
The strings final is the first to have been announced, ahead of the catgories for woodwind, brass, percussion and keyboard. Further BBC Young Musician 2022 Category Finals broadcast dates on BBC Four and finalists can be found as follows:
Woodwind Category Final – Highlights: Monday 3 October, 7pm
Alex Buckley (18 – clarinet); Isaac Skey (14- flute); Lucas Dick (17 - clarinet); Sofía Patterson-Gutiérrez (17 - flute); Thomas Priestly (18 - saxophone)
Brass Category Final – Highlights: Tuesday 4 October, 7pm
Daniel Hibbert (17 - horn); Florence Wilson-Toy (17 - trumpet); Imogen Moorsom (18 - French horn); Phoebe Mallinson (16 - trumpet); Sasha Canter (18 - trumpet)
Percussion Category Final – Highlights: Wednesday 5 October, 7pm
Eric Zhang (15); George Garnett (18); Jordan Ashman (17); Joshua Gearing (17); Sophie Warner (18)
Keyboard Category Final – Highlights: Thursday 6 October, 7pm
All piano: Dida Condria (19); Duru Erdogan (18); Ethan Lock (17); Firoze Madon (18); Jacky Zhang (14)
All Category Finals will be available to watch in full on the BBC Young Musician website.