Former violinist of the Fitzroy Quartet Laura Custodio Sabas joins the Norwegian ensemble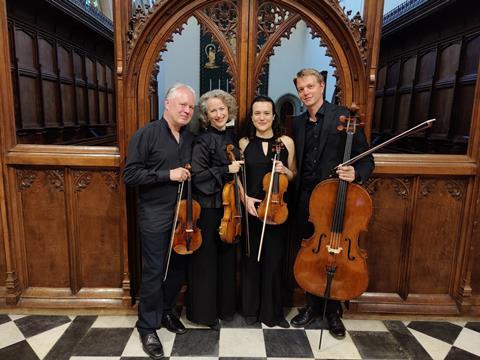 Read more news articles here
Laura Custodio Sabas has officially joined the Engegård Quartet as its second violinist, following the departure of Alex Robson in 2020.
'Joining the Engegård Quartet means a lot to me,' siad Custodio Sabas. 'It is an honour to be able to get my teeth into some of the most remarkable repertoire ever written (and still being written!) in the company of such inspiring personalities, both musically and otherwise.
'I loved playing with Arvid, Juliet and Jan Clemens from the very first moment and I am over the moon for our journey together.'
'We are inspired by Laura's fresh approach and her love and knowledge of the string quartet repertoire,' commented the members of the Engegård Quartet. 'Despite the fact that she is still young, Laura is already an experienced chamber musician. For the past six years, as a member of the Fitzroy Quartet, she has immersed herself in the quartet repertoire and developed a very special love for this musical treasure and all the joys and challenges associated with being part of a professional quartet.
'We feel honoured and immensely lucky that she has chosen to dedicate her musical future to the Engegård Quartet and are loving introducing her to our audience.'
Prior to joining the Engegård Quartet, the Catalan violinist was a member of the Fitzroy Quartet from 2016 to 2021, performing across the world in festivals in the UK, Germany, Poland, France, Spain, and South Africa. The Fitzroy Quartet performed its debut recital in Wigmore Hall in 2018 and won many awards and prizes, including the Beethoven Prize at the International Beethoven Chamber Music Competition (2017), the Tunnell Trust Award (2018) and first prize in the Royal Over-Seas League Competition (2020).
Custodio Sabas is also a member of the Mitsu Trio, which she formed in 2020 with cellist Akito Goto and pianist Tyler Hay.
As an orchestral player, Custodio Sabas has performed with the Mahler Chamber Orchestra, London Mozart Players, Glyndebourne Opera Orchestra, Orquesta de Cadaques, Bournemouth Symphony Orchestra, English Touring Opera and the Pacific Music Festival Orchestra.
A keen advocate of contemporary music, she often collaborates with Sound Salon, a flexible ensemble that provides a space for creative collaborations between performers and composers.
Upcoming highlights for the quartet include releasing an album of works by Olli Mustonen on the LAWO Classics label on 7 October.