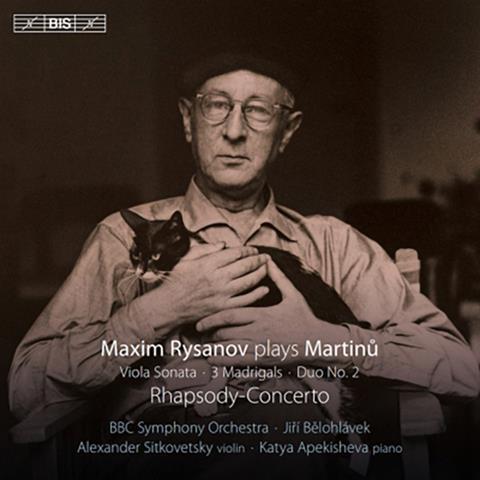 THE STRAD RECOMMENDS
The Strad Issue: July 2015
Description: Martinu¯'s viola works majestically performed by Rysanov and friends
Musicians: Maxim Rysanov (viola) Alexander Sitkovetsky (violin) Katya Apekisheva (piano) BBC Symphony Orchestra/Jirí BÄ›lohlávek
Composer: Martinu¯
In his teens, Bohuslav Martinu¯ seemed to be heading towards a career as a violin virtuoso. Although his vocation turned out to lie elsewhere, his playing abilities helped him to compose for strings in a uniquely idiomatic way. This sumptuously recorded hybrid SACD conveniently gathers Martinu¯'s viola-centric music (except for the Divertimento for violin, viola and chamber orchestra, which might have fitted at a stretch) in characterful readings by Maxim Rysanov.
Supported by Jirí BÄ›lohlávek's close understanding of Martinu¯'s music, Rysanov and the BBC SO achieve the naturalness of expression that is usually the preserve of native Czech players. The irregularly lilting rhythms of the Rhapsody-Concerto (1952) swing along in a completely convincing, effortless manner. Rysanov shapes the piece's numerous cadenza-like passages with an ideal mixture of fantasy and formal rigour, and the recording balance places him in a believable perspective.
All these pieces were composed while Martinu¯ was living in the US. The Rhapsody-Concerto was written for Jascha Veissi of the Kolisch Quartet, while the others were inspired by the artistry of violist Lillian Fuchs and her violinist brother, Joseph. In the Madrigals (1947) and the Duo (1950), Rysanov has a perfect match in Alexander Sitkovetsky, both players relishing Martinu¯'s virtuoso writing. The Viola Sonata (1955) – optimistically labelled 'no.1' in the score – is fierily dispatched by Rysanov and Katya Apekisheva, ending this programme on a triumphant high note.
CARLOS MARÁA SOLARE