Ever wondered what players keep in their instrument cases, apart from their Strads? We talk to some well-known performers to discover the secrets they hold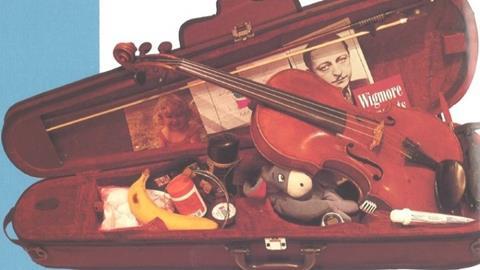 Sarah Changviolinist
I carry my life in my case, and it weighs a ton. It's a Gewa which I've had for about five years. There's all sorts of junk in there: rosin, extra strings, my passport and work permit, all the music I'm playing during that tour; printouts of emails, faxes and an extra battery for my phone. I keep some money in there too; not a lot, just change.
Then there's the girly stuff; some make-up - a compact and lipstick - and double-sided sticky tape. I've had a few accidents with dresses just before going on stage, when nothing has helped except for the tape. I also carry safety pins as there have been times I have been wearing a new dress and have realised the second before going on stage that it is too long, so people have hurriedly pinned the hem for me.
I keep a practice mute in the case, which almost always triggers off the alarm when l go through airport security. They always want to know what it is.
My photos are of my 15-year-old brother; including one of my favourite baby pictures of him at two months old, one of me with some musician friends and another of my grandparents.
There is always candy in there, for when I need a quick piece of energy. It's always hard candy, not chocolate: I once had some chocolate and it melted. The only thing that triggers a clearout is when I need to replace the candy. I know that if it's gone it's time to clean up the case.
Colin Carrcellist
Actually you've caught me very much between cases. I've been carrying my cello round in a brown bag for the last 20 years or so because it's the only way that I can guarantee getting it on to a plane without paying for a second ticket. It's saved me tens of thousands of pounds. I even know which models of aircraft I can manage this on. But I've recently bought an Accord case, which is a very light fibreglass.
I've got three unusual things that I carry in my case. A piano hammer - not a tuning hammer but the actual woollen hammer that hits the string. I need this to check my cello, which has a habit of coming apart; I just tap round the instrument to check. It's much easier than having to take it to Charles Beare or his equivalent in every city that you come to. I also carry glue and a glue pot so that I can do these repairs myself, but they normally go in my luggage.
The second one is clean underwear. Bags get lost all the time and, while it's not that much of a hardship if you don't have glue for two days, it's nice to have a clean pair of socks et cetera. In my soft case there's not really room for them so they end up being stuffed underneath the fingerboard.
The third thing is teabags; generally Earl Grey, Lapsang and English Breakfast. I carry them around because it's sometimes nice to have a cup of tea in your hotel room while you're practising, and my plastic glue pot has a heating element in it so I just use that to heat the water...unless I'm fixing my cello.
Hilary Hahnviolinist
My American Case Company case is like a portable office - musicians don't have desks as we're always travelling, so it's like a little bit of home. The inside is my drawers and the outside cover is my filing cabinet, full of music, hotel bills and receipts. Inside there are lots of cards and photos - one of me under Ysaÿe's portrait at the Wigmore Hall, imitating his pose, and one of my teacher - and Ysaÿe's student - Jascha Brodsky.
There's a postcard of Kreisler that my grandma sent me and a polaroid of my violin when it was being repaired. I have souvenirs picked up from recording sessions and black markers for signing autographs. I always carry two extra sets of new strings and one used set which are broken in, in case I have to replace a string mid-concert. I have four or five different mutes - I don't know why as I only use one, which was given to me by Brodsky years ago. I also carry a wash cloth, a metronome, bow lubricant, business cards, lip balm, tictacs... the list goes on!
Eugene Levinsonformer principal bass, New York Philharmonic
Besides the bass we usually keep our tails and concert shoes in our cases - whatever we need to tour. In fact it's not actually a case - it's more of a big trunk. There's a pocket in the door that I use for a spare set of strings and I always take a couple of bows in case something goes wrong. We're not allowed to take anything else in there when we go abroad because of the customs regulations.
The trunks were made year's ago for the bass players of the New York Philharmonic by someone in Austria and they're very durable with a good cushion for the instrument; there's even a hook for your pressed shirts and tails.
Christophe Collettefirst violinist, Debussy Quartet
We all keep chalk in our cases for the pegs. One time Vincent [Deprecq, the violinist] had let his chalk get very old and it had turned to powder. He was stopped as he tried to get on a plane because the customs men thought it was drugs. He had to open all his suitcases and it took him about an hour to explain why he was carrying it. I'm very bad with keys - house keys, car keys, whatever - so I always keep those in my case. And earplugs, so that I can sleep when we're travelling (and for when the violist plays too loud!) Between us our cases contain family photos, pencils, sewing kits, nail scissors, plasters, toothbrushes, alcohol to clean the strings... We all have big metal mutes which almost silence the instruments so that we can practise separately in the same practice room before performances. My case is by M.A. Gordge - it's very good, very solid and it should be - it was very expensive
Paul Silverthorne, former principal violist, London Symphony Orchestra
I used to have a bulky' case that had loads of space in it, and it got filled up with everything from screwdrivers to old love letters. I'm quite ruthless now. I have a custom-built Paxman and I deliberately don't have an outside pocket because they fill up with music and then the case gets heavy. In the inside pocket I keep spare strings, rosin, a shoulder rest, glasses case, tuning fork, metronome, pencil, pencil sharpener; rubber, practice mute and a selection of ordinary mutes, and I have a wedding photo tucked behind the bows. I also have an old make-up brush, which I use for getting the dust out of the curlicues of the bridge and the f-holes.