In the century and a half of their existence, Vuillaume's four highly-prized instruments named after the biblical evangelists have proved inseparable. Here, John Dilworth looks at their background and inspiration, and at the mysterious circumstances surrounding their creation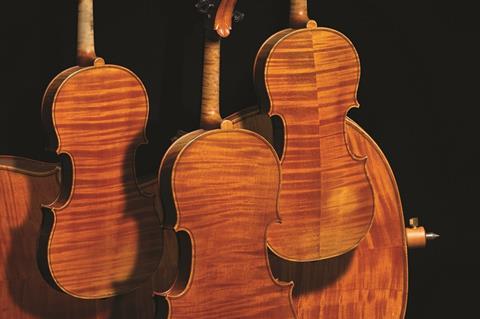 This article was first published in the February 2017 issue of The Strad, which is available to buy as a back issue in print and online
I recall being shown the 'Evangelists' quartet of instruments by a very proud Étienne Vatelot when I visited his shop as a student in the 1970s. That he should take the time to talk to a shabby English stranger I took as an indication of his own pleasure in and appreciation of this unique work of Jean-Baptiste Vuillaume, which he had recently acquired.
The quartet obviously has a devotional nature of its own, and must have had a strong meaning for Vuillaume himself, who constructed these four instruments in 1863 – each dedicated to one of the four evangelists of the New Testament – apparently without a particular commission. He followed these with a violin dedicated to St Joseph in the same year, and in 1864 he made the 'St Peter' and the 'St Paul'. In 1870 he made another 'St Paul' violin, and a 'St Nicolas' in 1872. In his 1972 biography of the maker, Roger Millant states that Vuillaume in fact made instruments dedicated to all twelve Apostles, although only nine seem to have survived.
No other equivalent works are known, and there is no obvious way to understand Vuillaume's motivation in creating these unusual instruments. He had already made a quartet to the order of Count Armand Doria, begun in 1848, and this was followed by quartets made in 1865 for Count Dmitry Nikolaevich Sheremetev and Prince Alphonse de Caraman-Chimay. But the 1863 'Evangelists' quartet seems to have had no starting point other than Vuillaume's initiative alone, and it is the only one of these sets to have remained together, in private collections and then in the appreciative ownership of Vatelot.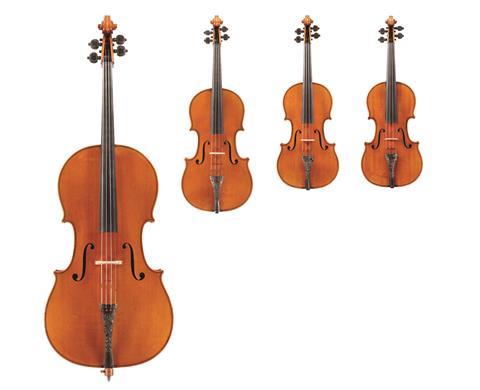 For most violin makers it is a dream to create a matched quartet, but there is little point in doing it if the instruments are immediately going to be dispersed among four unconnected players. A quartet requires a commission if it is to remain together, and it seems ironic that the quartets we do know Vuillaume made to order have themselves been dispersed in modern times.
The great obstacle to understanding Vuillaume's life and work is that, as Arthur F. Hill discovered from one of the maker's daughters, all his records were destroyed after his death. This, too, is ironic as Vuillaume was in many ways a supreme self-publicist, an ambitious personality in a world generally populated by faceless individual artisans. His ambitions were on the scale of his famous octobass (a huge three-string double bass): grand in every direction.
For a man responsible for the production of more than 3,000 instruments in his lifetime, perhaps one quartet did not hold the significance that we might want to give it. In 1844, for example, Vuillaume gave a quartet of his instruments as a lottery prize to raise funds for the Association des Artistes Musiciens in Paris. But this 'quartet' was probably not a planned 'set', but rather four instruments taken from the year's production. His conscious decision to dedicate the particular group under discussion here to the evangelists deserves some consideration.
In 1863 Vuillaume had been in his new workshop on the rue Pierre Demours les Ternes for five years (the house had been his private home since 1843). He was already a successful and honoured artist: in 1851 he was granted an award of the Légion d'honneur, and in 1855 he made the most spectacular coup of his career, the acquisition of the Tarisio collection, which included Stradivari's 1716 'Messiah' violin. He clearly had much to be grateful for.
David Laurie, in his Reminiscences of a Fiddle Dealer (c.1900), gives a unique description of the house as a two-storey chateau set in one and a half acres of garden with mature trees, stables and a coach house, and a distant view of the Tuileries Palace. The workshops were in the attic, lit by large bow-fronted dormer windows, but the heart of Vuillaume's enterprise was 'a small glass-panelled greenhouse' which acted as his reception office, showrooms and storage space.
Laurie says it was full of 'string instruments in all conditions, varnished, half-varnished, with no varnish at all, and some that were only just begun'. It was here that Vuillaume greeted his clients, and gave varnishing demonstrations whereby he would dip his brush into a bottle of varnish that he was offering for sale and apply it to instruments in front of clients and rival violin makers, before (as Laurie also tells us) removing to the attic workshops to strip the commercial varnish off and start again.
Millant adds that neither Vuillaume's wife nor his twin daughters were allowed to set foot in the greenhouse. It is a slightly different picture from what might be assumed from the industrial scale of Vuillaume's activities and achievements. But the attitude to his wife is interesting, too.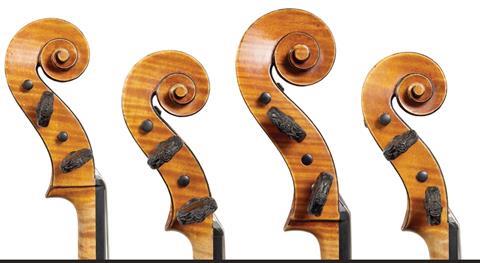 The couple married in 1827, and their twin daughters, who were their only children, arrived in 1828. Another thing we know about Mme Vuillaume is that her husband never allowed her to use a horse and carriage, despite the presence of stables and coach house at the family home, and Vuillaume himself made all his journeys into Paris on the public omnibus.
He was not, perhaps, an instinctively generous spirit. He made much of his meagre beginnings and admirable self-reliance, and passed this virtue on to his workmen by paying them paltry amounts. We might view him as a rather puritanical figure, but whether this helps us in interpreting the pious dedication of the 'Evangelists' is moot.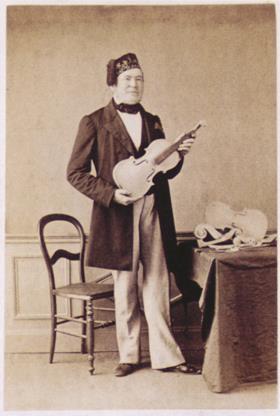 It might be said the quartet was made at a peaceful and optimistic time in Paris. After the revolution of 1848 and the establishment of a republic led by an elected president, Louis-Napoleon Bonaparte, the age of reason and artistic creativity was in full swing, perhaps best represented by the birth of the Impressionist movement at the notorious Salon des Refusés exhibition held in that very year – 1863.
The disaster of the 1870 Franco–Prussian War and the Commune of 1871, which put Vuillaume and his possessions (in particular the 'Messiah') under threat, must have been unimaginable in the public mind.
Vuillaume himself was 65 – a grand age for anyone at the time, but not yet approaching the nine decades of life that Stradivari enjoyed, and against which every violin maker probably judges themselves. His most innovative period was behind him, and he might have felt settled into a regular yet industrious life with his instruments.
Although the list of workmen he employed is extensive, few of them stayed with him for more than five years. In his shop in the centre of Paris, at 46 rue Croix-des-Petits-Champs, Hippolyte Silvestre stayed from 1827 to 1831. Honoré Derazey followed him, working alongside Charles Simonin until 1841. Charles Maucotel spent five years with Vuillaume, from 1839, George Gemünder joined from 1843 to 1844 and Joseph Germain stayed for a five-year period from 1845.
At rue Pierre Demours les Ternes from 1858 he relied on Télesphore Barbé, who seems to have worked from his own home for most of his association with Vuillaume. Ludwig Neuner arrived in 1860, remaining until 1867, and Paul Bailly was employed from 1864 to 1868. This serial progression, rather than one or two loyally consistent foremen governing the workshops, emphasises rather than diminishes Vuillaume's personal authorship of the works bearing his label.
And after Mme Vuillaume's death in 1865, Millant tells us, 'he buried himself in work'. The great distinction of this quartet of instruments is their new appearance, quite different from Vuillaume's familiar 'antiqued' style, and clearly influenced by the 'Messiah'. The varnish is complete and unblemished, not shaded as usually seen in Vuillaume's instruments, although its pale golden-yellow colour may indicate that some slight fading has occurred over the years. The edges are as crisp and clean as those of the 'Messiah', and the two Vuillaume violins both have its distinctive wide placement of the f-holes.
The first violin is 'St John' ('S. Jean', numbered 2501), and the second is 'St Mark' ('S. Marc', numbered 2502). For the model of the viola , 'St Matthew' ('S. Mathieu', numbered 2503), Vuillaume was influenced by two Stradivari violas: he was well acquainted with the 1719 'Macdonald', which he handled in 1857, but more so with the unique 'Kux, Castelbarco' of c.1720, for which he had made a new back. The latter instrument was made by Stradivari on his 'CV' (contralto viola) mould, but as a flat-backed viola d'amore. The cello, 'St Luke' ('S. Luc', numbered 2504), is quite closely modelled on the B form of Stradivari's 1710–25 period.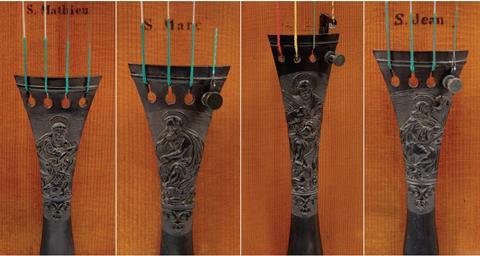 All the instruments are made from wood of similar quartered grain and figure, but both 'St John' and 'St Matthew' have a one-piece back. The dedication is very plain, limited to the French name branded on the table between tailpiece and bridge. There is nothing evangelical about the instruments themselves: no mottos or writings of the Apostles adorning the ribs (a device used by many makers historically, from Andrea Amati to Nicolas Lupot), and no painted decoration, which Vuillaume used frequently in special commissions or at his own whim. But the carving of what we think of as mere 'accessories', the pegs and tailpieces, carries all the weight of Vuillaume's dedication.
These fittings are in the maker's elaborate, finely carved style, each tailpiece depicting the individual saint with his traditional trappings. Vuillaume made similarly ornate fittings for the 'Messiah' and the 1709 'Pucelle' Stradivari, but here, in plain ebony rather than fumed boxwood, are the saints with all their signifiers, traditionally drawn from the Book of Revelation.
The quill is associated with all four evangelists, but St John is also depicted with an eagle, his symbol representing the Ascension – perhaps appropriate to the soaring voice of the first violin. St Mark is shown supported by the winged lion, another metaphor of the Resurrection and Ascension, and representing strength and resilience – an appropriate quality for the second voice in the quartet. St Matthew is depicted with an angel, interpreted specifically as a winged man – a reference, perhaps, to St Matthew's emphasis on the human nature of Christ. The cello was presumably thought fitting to St Luke because of his sign, the winged ox, a beast of strength and service – the foundation of the quartet.
All this may not help greatly in our understanding or interpretation of this quartet. In the end, perhaps a search for spiritual meaning in these instruments is fruitless. After all, Vuillaume is said also to have made a set of instruments dedicated to birds (the 'Nightingale', 'Thrush', 'Partridge', 'Quail' and 'Golden Pheasant'), in the same year. The titles may have been purely whimsical, but in Millant's view the 'Pheasant' is one of the finest of all Vuillaume's oeuvre. What they do denote, if nothing else, is a particular pride in the work he had achieved.
The 'Evangelists' have remained together as a quartet since the day they were made, although originally they were accompanied by gold and tortoiseshell bows – which seem to have lacked any specific identifying features, and appear to have become dispersed. The instruments were in a private English collection until about 1970, when they were acquired by Vatelot.
They were bought by the Arts Global foundation in 2008 and made available to the Modigliani Quartet. 'St John' was then loaned to Swiss violinist Rachel Kolly d'Alba, and the use of the entire quartet was then offered by the foundation as a prize in its international competition, held at Wigmore Hall, in 2010 and won by the Finzi Quartet. 'St John' has since been used by Australian violinist Emily Sun, but in March 2016 the instruments were sold together at Sotheby's to a private collector for the record sum of £960,000.
All instrument photos courtesy Ingles & Hayday