In recent years manufacturers have come up with new shoulder rest designs and materials, and new dependable models have appeared both at the low end of the market and at the very highest. Femke Colborne talks to the makers with an eye on improvement, and to those who feel they are already catering for customers' needs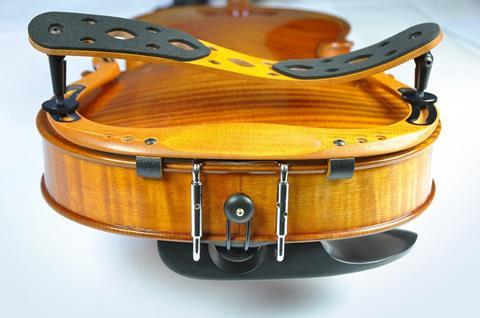 This article was originally published in The Strad's Accessories 2016 supplement, so the pricing of individual products may have changed
The design of the violin might not have changed significantly in more than 400 years, but there is plenty of room for innovation when it comes to the experience of holding and playing the instrument. In a bid to improve comfort and reduce the risk of injury without dampening the sound, accessory manufacturers have come up with all kinds of weird and wonderful chin rests, shoulder rests and other items – from pieces of sponge and cloth to bendable wood and high-tech carbon-fibre compounds. Over the past couple of years, the shoulder rest in particular has been the focus of a number of manufacturers' efforts to improve the experience of playing the violin. There's a broad spectrum of options, from high-end professional models to cheap Chinese-made versions aimed at beginners. At the very top end of the market, at $1,100, is the Pirastro KorfkerCradle, a kind of über-shoulder rest only available to players who can afford to buy it. This product has some unique features to justify its cost: the cradle design allows for especially secure attachment to the violin, as well as superior adjustability. The rest is also made from high-end maple to ensure the lightest possible weight and maximum sound projection. But not everyone can afford such luxury, and two years ago Pirastro responded to demand from lower down in the market by releasing the KorfkerRest – at $210 around a quarter of the price of the KorfkerCradle. Though much simpler in design than the cradle, the KorfkerRest incorporates many of its features: it is also made of maple, and can be moulded to fit around the shape of the shoulder. It is also extremely light, with diamond-shaped holes cut into the wood to take out as much unnecessary weight as possible – ideal for orchestral players who spend several hours a day with the violin at their shoulder. Rubber feet to avoid scratching the instrument are another attractive feature.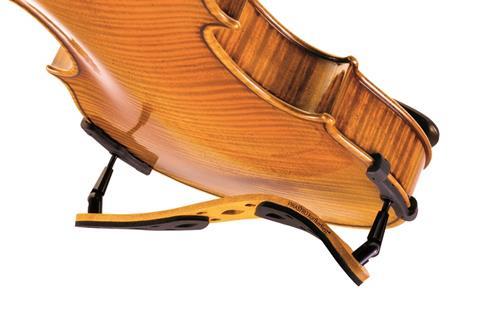 Dutch violinist Berent Korfker, who developed the KorfkerRest alongside Pirastro, says: 'The KorfkerRest uses many of the discoveries made during the development of its big brother, the KorfkerCradle. In developing the KorfkerCradle, my aim was to make a rest that first of all would have a negligible effect on the sound production and sensitivity of the violin, secondly would offer players unique adjustment possibilities and thirdly would be superlight. There were many rests on the market claiming to be the lightest, most comfortable or most sound-enhancing. Over many years, I tried the most promising of them and found that most of those claims were unfounded. I was disappointed with what was available to me as a player, both in terms of comfort and sound. Moreover, manufacturers were constantly adding models to the lower end of the market while the top end remained stagnant. From my experience as a player and educator I knew there was a demand for a high-end shoulder rest which would actually do what it promised.'
But a top-end shoulder rest is beyond the means of many, and what's interesting about a number of the models that have come on to the market since the KorfkerRest is that they combine some of the features of a high-end shoulder rest – such as high levels of adjustability, light weight and a polished appearance – with a much lower price tag. As a result, the technology behind the best shoulder rests is becoming accessible to a much wider market.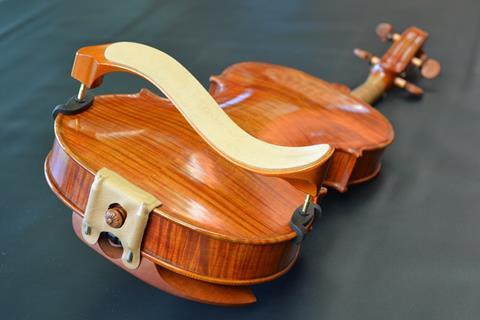 Earlier this year, Czech–Canadian luthier Peter Mach, inventor of the Mach One shoulder rest, unveiled his latest creation, the Mach One 'Hook': a viola rest with the same design and contours as his signature model but made out of plastic instead of maple, to keep the cost down. The new rest retails at about $40, compared with about $80 for the wooden viola model. Mach has been making plastic shoulder rests for the violin for years, but he had not previously ventured into the viola market because of the cost of creating a separate mould. However, he now believes demand for the cheaper version will be high enough to justify the investment.
'We have made plastic violin rests since the very start, 19 years ago,' Mach says. 'There is not so much of a demand for viola rests, but we wanted to do something new. The shape is very similar to the wooden one, but the new one is absolutely basic, with no extra features, no screws or bolts. Some people will always prefer the old one because it is made of maple, like the back of the instrument, so it matches. But I am always experimenting and listening to customers.'
New composite plastics are better than old ones at channelling sound
Traditionally, the preferred material for shoulder rests has been wood, because it is very light and naturally resonant as well as aesthetically pleasing. More recently, some good carbon-fibre models have also emerged, but these also tend to sit towards the more expensive end of the market. Plastic has traditionally been seen as an inferior material for shoulder rests because it can dampen the sound, but recent advances in technology have led to new composite plastics that are better than the old ones for channelling sound. For his latest shoulder rest, Mach has used a blend of three different plastics to ensure maximum sound quality. 'People say they can hear the difference,' he says.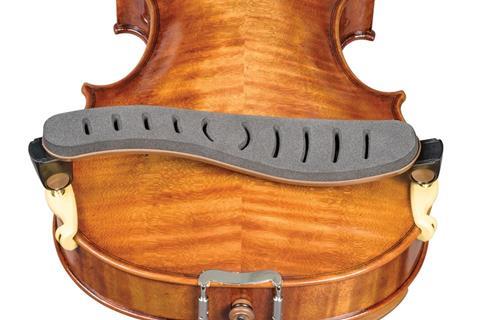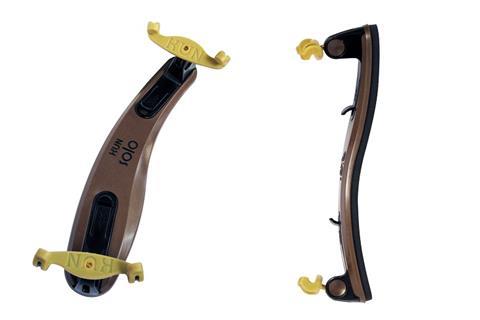 Kun, which makes several shoulder rests at different price points, has also focused on making high-end features more affordable with its latest model. Launched last year, the Kun Solo is based on the Kun Voce, which retails at around $70. Made from aerospace-grade carbon fibre, the Voce is Kun's lightest and most adjustable rest, combining a slightly wider and more comfortable design with the manufacturer's signature folding mechanism. The Solo has the same wider shape but is made from a cheaper composite material, like the original Kun shoulder rest. Apart from the more attractive price point (around $25), the Solo also has a few bonus benefits: a new quick-adjust finger lever provides precision adjustment and eliminates the need for screws, and cut-outs in the sponge rubber enhance its grip on the player's shoulder.
Read: Shoulder Rests: The Ideal Fit
Read: How important is violin shoulder rest set-up for children?
Read: Finding the right chin rest and shoulder rest
Read: The pros and cons of using a shoulder rest
Juliana Farha, marketing and product development manager for Kun, says: 'We wanted to take advantage of the shape and properties of the Voce, but create something more standard for students. It's great to see the players on the big stages using our rests, but the bulk of our market is students and amateurs. We need to cater for them, for people who play for pleasure, not just for professional musicians. The Solo has all the qualities that a professional would look for – it is still reliable and comfortable, but it doesn't have the high price tag.'
At the other end of the spectrum, manufacturers who have traditionally focused on the student market are also now starting to venture into more high-end technology. Everest (of California-based wholesale company Oliver Music), for example, famous for its plastic and foam shoulder rests aimed at students, is planning on launching a new wooden shoulder rest next year and a carbon-fibre model the year after. The company's main priority with the new models is to keep the cost as low as possible, providing a cheaper alternative to existing wood and carbon-fibre models.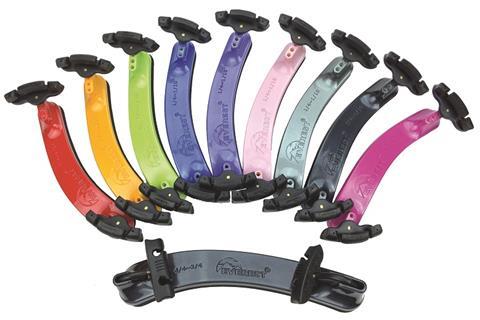 David Cheng, designer and engineer of the Everest shoulder rest, explains: 'Some Chinese-made wooden rests cost as little as $30, and our wooden rests may be more expensive than that, but they will be cheaper than the high-end ones. We are still looking for the right kind of wood – something that is strong enough but not too expensive. Our carbon-fibre version will also be cheaper than what is out there at the moment and affordable for normal people. We would rather not introduce something new into the market unless we can keep the cost down. We always try to make our rests affordable to most people, not just tailored to professionals. That is our main objective.'
Founded ten years ago, Everest is relatively new to the shoulder rest market, which goes some way towards explaining the company's latest plans: 'Most professionals today grew up playing with a Kun, Mach or Wolf shoulder rest,' Cheng says. 'But we sincerely hope that when today's children grow up they will continue to use our shoulder rests when they get older. We hope they will continue to use our brand. Our new models will feel the same, with the same contours but higher-end materials.'
Not all shoulder rest manufacturers are focused on developing new products
One of the reasons for shoulder rest manufacturers' growing focus on the mid-market is the increasing number of Chinese and other Asian students learning the violin to a high standard. Manufacturers who previously focused on the student market in these countries are growing up with their customers, while those that have previously focused on high-end professional shoulder rests are also seeing new opportunities in the mid-market. 'I am getting orders from Vietnam, China, Korea, Japan and other Asian countries,' Mach says. 'There is more interest than there was 20 years ago.' Not all shoulder rest manufacturers are focused on developing new products. Founded in 1964, Netherlands-based Wolf Music Products is a long-established player in the shoulder rest market. Robert Wolf, owner of the company, believes that the Wolf rest is already as good as it can be. 'Violins are still the same, so why change the shoulder rest?' he says. 'It is a conservative world – some teachers even forbid their students from using coloured rests. We have no plans for new products at the moment. In my opinion, everything you need is there. Violins have not changed in 400 years, so there is only so much you can do. You can change the look or the price, but then you lose the functionality.'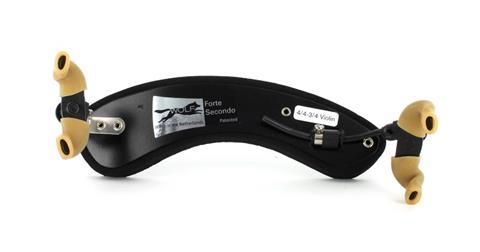 In keeping with these views, Wolf 's innovations in recent years have focused more on changing the appearance of the shoulder rest, rather than the inherent functionality or mechanisms. The company's full range of shoulder rests cater for various different price points and body shapes but all have an aluminium back that can be moulded to fit the player's shoulder, plus fold-out rubber feet. They are all available in nine different colours, from 'Blue Evening Sky' to 'Orange Sun'.
Others agree with Wolf 's views about the conservative nature of shoulder rests, if not to the same extent. 'Shoulder rests are very slow-changing,' says Cheng. 'We will continue to grow, and we will continue to look at different models and materials, but we will stay with our pattern and we will not deviate from our design.' Everest's latest products reflect this philosophy: earlier this year, the company brought out new red and orange versions of its ES model, sticking to its tried and tested design but adding a new twist for violinists who want something a bit different.
'I have yet to come across a shoulder rest i have fallen in love with – the search is still on and the market is still open' – Sophie Till
However, others believe that there is still plenty of room for far-reaching innovation in the shoulder rest market. Sophie Till is a British violinist who works as clinical assistant professor of violin and viola at Marywood University in Pennsylvania, US. She specialises in helping string players to minimise pain and discomfort using elements of the Taubman Approach. As part of this brief, she often finds herself searching for the best accessories to help string players minimise the risk of injury. 'I work a lot with injured musicians and I have yet to come across a shoulder rest I have really fallen in love with,' she says. 'The search is still on and the market is still open. Nothing mind-blowing has come up and there is room for plenty of innovation.'
Till applauds the recent efforts among shoulder rest manufacturers to make their most advanced designs more accessible to a wider market. 'Cost makes a big difference, so it is good that they are bringing costs down.' But when it comes to improved designs, there are certain points she looks for: 'We need something that is fully adjustable and simple to use, but also affordable, even for a student. The complexity of a human holding the instrument needs to be matched, and that also has to be complemented by ease of use, design quality and affordability. Most people would pay quite a bit for something that met all of those criteria, but it's still not out there.' So in spite of the progress that's been made and the new models coming on to the market, the search for the perfect shoulder rest is still on.