Violinist designer says Stikato can be positioned at the perfect practice height, then easily stowed in an instrument case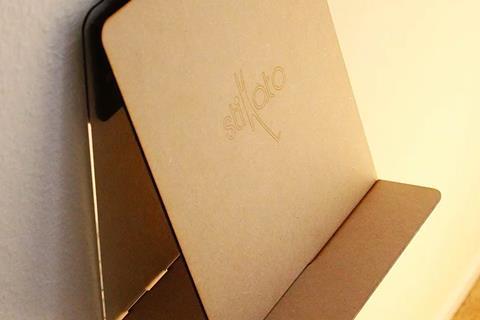 A new type of music stand has been designed to help musicians improve their posture during solo practice. Stikato, which uses technology inspired by geckos' feet, sticks to any surface and supports an entire binder of music.
Invented by the San Francisco-based product designer and violinist Akshay Dinakar, it can be positioned on the wall at the perfect height for the musician, then, once the practice session is over, folded into 'flat mode' and stowed in a folder or a violin case.
'After years of being told by my violin teacher to 'stop slouching,' I realized something important,' says Dinakar. 'The traditional music stands I'd been using throughout my entire life were terrible inventions. Bulky and clunky, these metal stands were impossible for me to use at a proper posture height.'
He continues, 'these stands also weren't portable enough and I often forgot mine when travelling - forcing me to awkwardly practise with sheet music on low tables or beds, totally ruining my technique.'
Dinakar was inspired to begin work on the Stikato project after meeting violinist Pamela Frank, who presented at the National Youth Orchestra of the USA residency in 2017. After two years of building over 44 prototypes and testing them with musicians across the USA, the finished design has just been launched on Kickstarter this week.