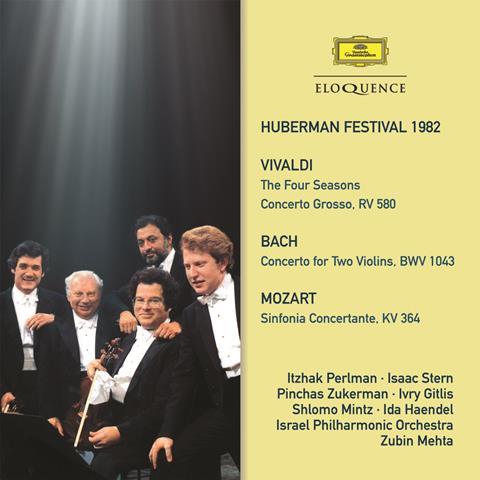 The Strad Issue: April 2016
Description: Star string players gather to celebrate Huberman's 100th
Musicians: Isaac Stern, Itzhak Perlman, Shlomo Mintz, Ida Haendel, Ivry Gitlis (violins) Pinchas Zukerman (violin/viola) Israel Philharmonic Orchestra/Zubin Mehta
Composer: Bach; Mozart; Vivaldi
In December 1982, to mark the centenary of the Israel Philharmonic's founder Bronislaw Huberman, a galaxy of string players took part in a week-long festival in Tel Aviv. Only Jewish artists were invited, although Huberman had expressly asked the anti-Nazi Gentile Adolf Busch to give the first four concerto performances with the Palestine Orchestra back in 1937. This set reproduces DG's two-LP sampler (a four-disc selection without The Four Seasons is also available: Helicon 02-9667).
Emulating the practice of I Virtuosi di Roma, The Four Seasons has a quartet of soloists – Stern, Zukerman, Mintz and Perlman. Each concerto is hugely enjoyable, the solo artistry matched by a sensitive orchestra.
The muted Adagio molto of Mintz's 'Autumn' is a highlight. Also very pleasing is the Concerto grosso with Stern, Gitlis, Haendel and Mintz, their interplay especially noticeable in the opening Allegro.
The Bach Double, with Stern and Mintz combining for the first time, is not quite a marriage made in heaven: there is some heaviness as well as an awkward moment in the Vivace. But their playing is absorbing and the audience love it – on the night, they had to encore that very movement.
The celebrated Mozart performance soon had a separate life, and Perlman and Zukerman made a studio recording of the Concertone to go with it. Perhaps the Andante is a little slow at twelve minutes but it is seraphically performed, as are the outer movements. One is constantly surprised by the beauty of Perlman's statements and the serenity of Zukerman's responses. The recordings are excellent.
Tully Potter