For lutherie students assessing the sound of a newly-made instrument is a crucial part of becoming a maker. Peter Somerford discovers how making schools incorporate tonal testing into their courses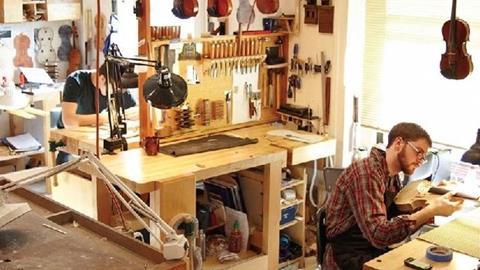 The following article is published as part of The Strad's Players at making Schools feature in the September 2016 issue – download on desktop computer or through The Strad App.
The fundamental goal of a violin making school is to teach beginners the craftsmanship required to make instruments, but it also has a certain responsibility to introduce students to the aspects of being a luthier that lie beyond the mechanics of the craft. Interacting with players, evaluating violin tone and understanding the details of sound adjustment are all elements that apprentice makers are exposed to in a shop environment, so how much of this can (or should) they be learning about at school?
The tonal evaluation of students' work at making school often starts out informally, with students trying out their newly finished instruments first, and asking classmates who are more accomplished musicians to play them. The instrumental lessons that are usually offered or required by schools enable those with little or no playing experience to gain a basic impression of how a violin sounds under the ear. Violinist Rosalie MacMillan, who gives lessons to students at the Violin Making School of America (VMSA) in Salt Lake City, UT, says: 'My goal as an instructor is to give students the most natural technique possible, so that they can tell the difference between themselves and the instrument.'
Besides one-to-one, casual play-testing, there are more formal, often more structural group sessions for sound evaluation and comparison. Roman Barnas, the head of the violin making and repair department at North Bennet Street School, attests to the value of group evaluation sessions for students who may already have a good idea of what they think a violin should sound like. 'If students have a strong playing background, they tend to pre-judge instruments in a particular way,' he explains. 'In these testing and feedback sessions with players, their minds are opened to the fact that musicians talk about sound on different levels. This helps the students understand how various players perceive sound, and what those musicians are looking for in an instrument. It's an important learning point, because as a luthier you want to help players get what they want out of the instrument, rather than being the ultimate arbiter of the sound.'
The Strad's Players at Making Schools feature is published in the September 2016 issue –download on desktop computer or through The Strad App.
Photo: North Bennet Street School in Boston, US © Heather McGrath