Questions to help you find the right short course and arrive well prepared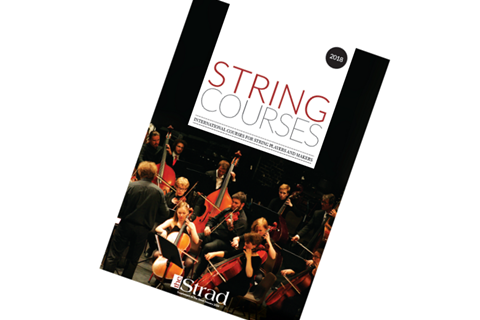 String Courses is our annual guide to short courses, masterclasses and workshops. It is a free supplement with The Strad January 2018 – to see it in full, download the issue on desktop computer or via the The Strad App, or buy the print edition


WHY DO YOU WANT TO GO ON A COURSE?
Think about what you want to achieve and how much time you need to do it.
WHAT DO YOU WANT TO STUDY?
Are you looking for an intensive masterclass course with star teachers to stretch you?
A friendly environment of like-minded amateurs to practise chamber music with?
Or do you want to try a completely new style of playing or repertoire?
WHO DO YOU WANT TO MEET?
Would you like to attend a course together with your pre-formed chamber group, or play with lots of different people?
Do you want to be among those of a similar standard and just have fun, or really stretch yourself by playing with the cream of the crop?
WHERE WOULD YOU LIKE TO SEE OR GO?
Residential courses are a great opportunity to travel and explore new places as well as to work on your technique. Are you looking for the intensity of living and working on a campus together with others, or would you rather maintain your own space when the lessons are over and stay in a hotel?
WHEN CAN YOU FIT IN THE COURSE?
If you're a student – or a teacher – then the summer holidays are the obvious choice, but there are courses happening all year round.
WHEN IS THE DEADLINE?
Make sure you check whether the course organisers need to receive your application by a certain date.
HOW WILL YOU GET THERE?
If you're flying to your destination, be aware of any instrument-carrying restrictions imposed by the airline you are travelling with.
CROSSING BORDERS
If you are travelling to a different country, play it safe by taking a 'passport' for your instrument and bow – a full description and photographs stored separately from the case.
HOW WILL YOU SUPPORT YOURSELF DURING THE COURSE?
Financial help is sometimes available to those who need it – check the codes in our listings for the courses that offer it.
DON'T FORGET…
concert dress if performance is part of the course, and some smart shoes
sheet music that you'll need and any spare chamber music you might want to try
to organise finances to cover your trip or financial aid, if you qualify
a humidifier (if you're going to be in a different climate)
a spare set of strings
a lightweight music stand
a practice mute for last-minute practice emergencies
a recording device if you want to have a lasting record of classes
nail clippers if your fingers aren't in playing shape
if you're a cellist, a spike holder to protect delicate flooring
clothes pegs if there's a chance of any al fresco performances
an MP3 player and books in case you need to get away from it all
your toothbrush!