Pauline Harding attends workshops, talks to early music specialists and pioneering modern players, and discovers a whole new approach to interpreting classical music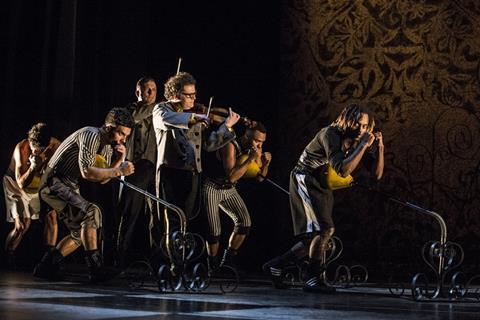 The following is an extract from a longer article in The Strad December 2017 – to read it in full, download the issue on desktop computer or via the The Strad App, or buy the print edition. See below for video examples relating to the article.
Bow hair creaks on strings in the darkness; low cello tones rumble like warehouse pipes; glissandos, percussive taps on wood and pizzicatos build together to a climax as lights flash with increasing strength, revealing first one dancer, then two, then three, moving in wild spasms on the stage. More join from the shadows, until there are seven – and then, sudden silence. Light pours in to reveal a string quartet, each player in a different corner of the stage, and the dancers' feet thud on to their atonal harmonies. Behind them, pearly patterns of light flutter on a projector-screen wall. For the next hour, dancers and musicians explore darkness, light and colour, space and movement, in juxtaposed episodes of chaos and order.
I am watching a DVD of Quatuor Debussy, which formed at France's Lyon Conservatoire in 1990 and specialises in this type of performance art, setting dance to a mixture of new, arranged and traditional quartet repertoire. Programmes feature Cage, Bach, Haydn, Glass, Schubert, Ravel, Górecki, Beethoven, Shostakovich, Janáček, Dvořák and more; one entire show, Boxe Boxe, plays such music to a choreographed story of a troupe of fighters. But why choreograph string quartet repertoire that stands happily on its own? For Quatuor Debussy, says its leader, Christophe Collette, dance and gesture inject direction and spirit into the ensemble's performances. 'The dancers and the musicians can feel the energy from each other,' he says. 'Now, when I play Shostakovich Quartet no.11, or Beethoven's Grosse Fuge, I can always see dancers and acrobats in my mind, even if I am playing an ordinary concert – it is as if their bodies give me energy to play the music.'
To read the full article, download The Strad's December 2017 issue on desktop computer or via the The Strad App, or buy the print edition
VIDEO EXAMPLES
Boxe Boxe Brasil (Quatuor Debussy, with Compagnie Käfig)
'Opus' (Quatuor Debussy with C!RCA)
Natalie MacMaster with Donnell Leahy