The head of the Phillips auction house music department in London for decades, Stollar was one of the violin trade's most respected figures. The following is an extract from an article in the July 1990 issue of the strad by Robert Lewin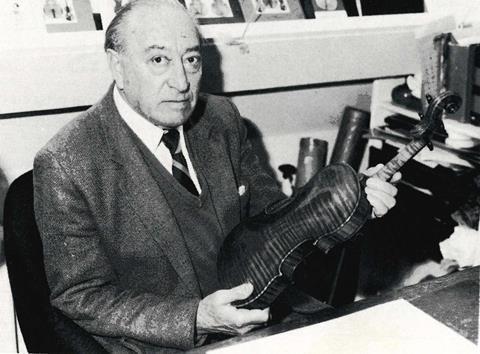 Way back in 1930 when Puttick & Simpson were firmly ensconced at their Reynolds Galleries, 47 Leicester Square, with George Withers' renowned violin shop on the opposite corner, a youngster named Edward Stollar was making quite an impression at sale times as a talented judge of violins. Sixty years later at the close of business on May 24th at Phillips, successors to Puttick & Simpson, there was a reception to celebrate that selfsame person's 80th birthday, incidentally setting up a world record unlikely now to be challenged, as long time consultant in the musical instrument field.
…
Prices are not the only change over the years. Your old slim catalogue allotted maybe five words per lot, it had to be something pretty special to merit a dozen words of catalogue space, and when Christie's sold the fabulous Emperor Strad last century it was awarded precisely one-and-a-half lines.
The Stollar regime set the pace for informative catalogue descriptions, taking the responsibility at the very least for the bona-fides of the instrument, vital dimensions and model, critical too of condition, something that would have appalled the auctioneer of old with his 'let the buyer beware' philosophy. But to a host of newcomers in an expanding musical world the frank statement of an instrument's true quality has come as a veritable boon, with the unsophisticated buyer leaning heavily on the Stollar summary and valuation.
…
The mark of the expert is his instinct for a wrong 'un. Edward stellar has devoted a long life to the unending battle with the fakers. As recently as this springtime he uncovered a cunningly planned campaign to present some quite new Italian in the guise of the Pollastri of Bologna family, remarkably accurate imitations, simulating natural wear too, that had fooled some very competent professionals. The art of being a good judge of what is or is not 'right' is a nice mix of flair – what your instinct is trying to tell you – and experience, and over the last 60 years Edward Stollar may well have seen more instruments that anybody, for there is an increasing stream of callers at Phillips with their problems.
…
With all that long experience behind him, Edward Stollar is by no means a dominating personality of superior airs, quick to impose his authoritative knowledge on you. On the contrary he is a rather unassuming figure who insist on treating you as an equal, listing attentively while you relate the long history of your family musical heirloom. Yet when Ted Stollar tells you what your violin really is you can listen, for you being guided by one of the top experts in the world.