The event is taking place from 3 to 25 September 2016 in Romania in violin, cello and piano disciplines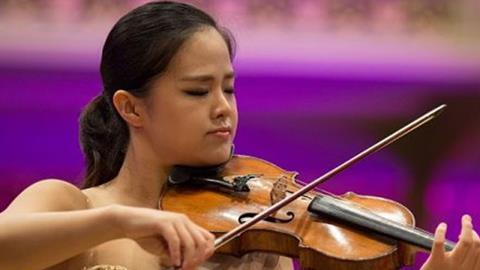 Gyehee Kim, aged 23, has won the violin section of the 2016 George Enescu International Competition in Bucharest, Romania. The South Korean's performance in Monday's final of Tchaikovsky's Violin Concerto with the George Enescu Philharmonic Orchestra conducted by Christoph Poppen earned her the €15,000 top prize and a number of performance opportunities around the world.
A student at the Seoul National University, Kim has performed with ensembles including the Russian and Torun symphonies, Gnessin Academy of Music, and Bulgaria Pleven Philharmonic. She won second prize at the Torun International Violin Competition in 2016, and third prize at the Tchaikovsky Competition for Young Musicians in 2014.
This year's youngest violin contestant, 16-year-old Donghyun Kim from South Korea, received second prize, worth €10,000, while 29-year-old Erzhan Kulibaev from Kazakhstan was awarded third prize, worth €5,000.
Sitting on the jury were Pierre Amoyal, Remus Azoiței, Florin Croitoru, Mikhail Kopelman, Silvia Marcovici, Mihaela Martin, Eduard Schmieder and Miczyslaw Szlezer.
The contest is part of the George Enescu International Festival and Competition, founded in 1958 as a celebration of the Romanian composer's work. It also features categories for piano and cello, the latter of which was won this year by Zlatomir Fung from the US.
The 2014 George Ensecu violin section was won by Stefan Tarara, while the cello section was won by Eun–Sun Hong.
Read: Zlatomir Fung wins 2016 George Enescu Competition cello section
Read: George Enescu International Competition 2016 announces violin and cello candidates
Photo: Andrei Gindac