A welcome chance to explore the early works of a Romanian master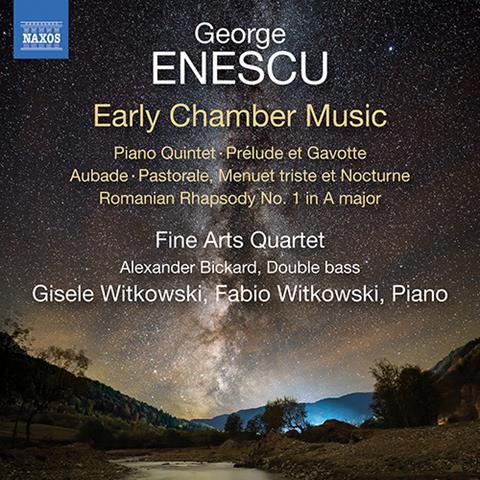 The Strad Issue: October 2023
Description: A welcome chance to explore the early works of a Romanian master
Musicians: Fine Arts Quartet, Gisele Witkowski, Fabio Witkowski (pianos) Alexander Bickard (double bass)
Works: Enescu: Piano Quintet in D major; Prelude and Gavotte; Aubade in C major; Pastorale, Menuet triste et Nocturne; Romanian Rhapsody no.1 (arr. Enoch)
Catalogue number: NAXOS 8.574487
By all accounts, George Enescu was a remarkable musician, with the likes of Casals and Heifetz happy to play with him. Menuhin regarded him as one of the greatest musicians he'd ever met – strong praise indeed. His precocious compositional talents are celebrated here in an enterprising disc of recently published chamber works, including a Piano Quintet which was written when he was only 15. Inevitably in music composed at such a young age, various influences come to the fore, not least Brahms, in what amounts to a light yet melodious Romantic style. It's pleasant fare, but what Enescu already demonstrates is a tremendous compositional fluency at handling more extended material. The Fine Arts Quartet is impressive, with finely honed phrasing and good characterisation, while the two pianists offer elegant support. Of the very early works, the expressively performed Aubade for string trio is particularly noteworthy, with its strong dialogue between the parts.
A slightly more overt French influence, reflecting Enescu's move to study with Fauré in Paris, can be heard in the courtly Gavotte of 1898 for the unusual combination of violin, cello and two pianos. Yet the Pastorale, Menuet triste et Nocturne for violin and piano duet, written two years later, marks quite an advance, offering the first memorably poignant thematic material.
Indubitably, though, the showstopper is Enescu's famous First Romanian Rhapsody, performed here in a brilliant arrangement by Jacques Enoch. This truly sparkles in a performance that is finely balanced and benefits from Alexander Bickard's strong bass-line.
JOANNE TALBOT