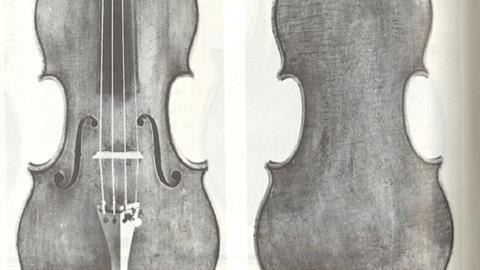 This illustration of the 'Lady Tennant' Stradivari was published in The Strad, November 1983. The following text is extracted from the article accompanying the photographs:
The Hill book on Stradivari reminds us that the 1690 decade coincides with the master's achievement of a half century of age when his skill reached its zenith. The 'Tuscan' of 1690 displays his marvellous craftsmanship, and the 'Lady Tennant' in its own fashion is another instrument unequalled in beauty of appearance and sheer perfection of form.
The 'Tennant' is a justly famous violin that is singled out in every book on Stradivari. It has been described as the first of the Golden Period, but its gracious, gentle curves rather suggest Stradivari's momentary turning back after his experimenting with the Long Strad model to the lovely shaping of his teacher, Amati.
The last appearance of the 'Tennant' before this month was at the 1937 Stradivari Bicentenary Exhibition in Cremona, where its almost unshaded glowing brown varnish was much admired. The tone of the 'Tennant' has that bell-like clarity we associate only with the master himself and the years have dealt lightly with it.
All in all this is a superb Strad made at the height of his powers and still as it left his hands nearly three centuries ago.