The Strad's editor Emma Baker introduces the September 2022 issue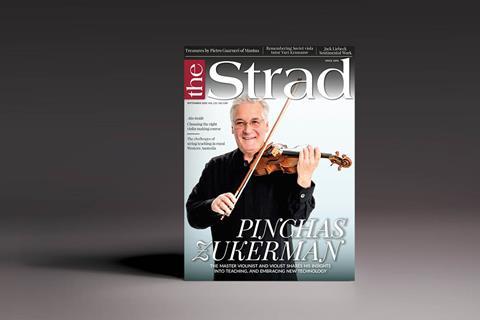 As the new academic year and the first hints of autumn both roll into view, we focus our attention on education in this issue of The Strad.
This September will herald the first year that schools and colleges will largely return to normal teaching practices since the start of the pandemic. While Covid-19 still has an ongoing impact on education systems around the world, there are some positives that have come out of the past two and a half years. One of these is the almost exponential development and uptake of technology used for remote teaching.
Our cover star, the great violinist, violist and teacher Pinchas Zukerman, was one of the earliest advocates for long-distance learning, even as far back as the 1990s, and on page 30 Pauline Harding travels to Texas to speak to the great man about his remarkable life and career, and observe his insightful and inspirational teaching methods.
For a completely different definition of 'remote learning', we travel to regional Western Australia to examine the challenges faced by string teachers in this vast, wealthy, yet sparsely populated state. How do passionate local practitioners bring music into the towns and settlements and to the young people who would benefit the most? Rita Fernandes finds out on page 50.
On page 40, Peter Somerford looks at the increasing variety of international instrument making courses available to those wanting to start out on a career in lutherie, and the importance of making the right choices – not just where to study, but also whether the course content on offer is the right fit for the student luthier's aspirations and expectations.
And on page 48 we celebrate 50 years of a British lutherie institution – the Newark School of Violin Making. Along with our regular playing features – Technique and Masterclass – there is plenty to inform, educate and entertain this issue.
Emma Baker editor
Email me at thestrad@thestrad.com or tweet @TheStradMag
In our regular sections:
In Focus: Jordi Pinto examines an unusual tenor viola made by his own grandfather, Jacint Pinto
Trade Secrets: Luthier Fany Bourel presents a traditional way of gluing the C-bout ribs
My Space: Mechthild Ossenbrunner of Cologne
Making Matters: Andrew Ryan examines a curious detail of Cremonese archings
Masterclass: Tabea Zimmermann on the first movement of Hummel's Viola Sonata op.5 no.3
Technique: Marcos Santos on the collé stroke
Life Lessons: With violinist Carmine Lauri
Opinion: How a different discipline, such as learning a new language, can bring new ideas
Postcard from Belgium: String quartets compete in France's wine-making capital
Postcard from Helsinki: The finals of the International Jean Sibelius Violin Competition
From the Archive: From September 1892
Sentimental Work: Violinist Jack Liebeck on Prokofiev's Violin Concerto no.1 in D major