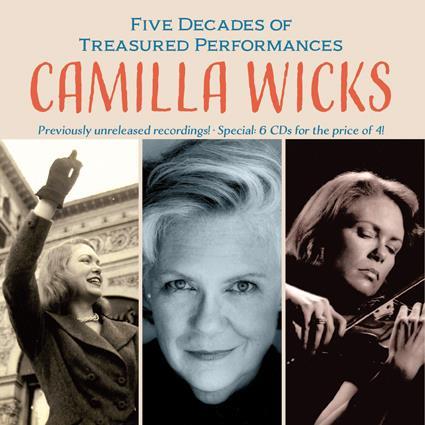 The Strad Issue: August 2015
Description: A celebration of an under-sung violinist now in her eighties
Musicians: Camilla Wicks (violin) various artists
Composer: Barber, Bartók, Beethoven, A. Benjamin, Bloch, Brahms, Brustad, Chausson, Chopin, Debussy, Fauré, Gershwin, Grieg, Kreisler, Mendelssohn, Nín, Paradis, Ravel, Sarasate, Scărlătescu, Schubert, Shostakovich, R. Strauss, Tailleferre, Tchaikovsky, I. Wicks, Wieniawski, Ysaÿe
Camilla Wicks (born 1928) was one of several notable American violinists who gave up their careers in the 1950s for family reasons. Although she made a comeback in 1960, her career was rather spasmodic after that; but she was a well-loved teacher at many institutions until her retirement in 2005. This set, six discs for the price of four, consists of previously unissued material.
It begins with a superb Mendelssohn Concerto from 1949 with the great Fritz Busch conducting. Wicks's playing is lovely, with a marvellous cadenza, an eloquent Andante and a brilliant finale that is not rushed – worth saying because a Sarasate Tarantelle and the finale of a 1946 Wieniawski D minor with Stokowski are too fast for my taste. A mid-1990s Brahms Concerto, pretty well played, is fashionably far too slow, although concertos by Tchaikovsky (with Steinberg) and Barber (with Ehrling) are excellent.
Two sides of Camilla Wicks are on show: a Wicks whose playing is hyper-tense, notably in an over-vibrant, overwrought Chausson Poème, and a more relaxed Wicks who gives pleasure in Ysaÿe's solo Ballade, Ravel's early Sonata, Grieg's C minor, Tailleferre's First and the Debussy. Uneasy partnerships with pianists spoil some sonatas but Roslyn Frantz contributes mightily to a heroic Bloch First Sonata.
Apart from enjoyable sets by Nín, Gershwin and Shostakovich, few of the many short pieces really connect with me, owing to poor sound or over-strenuous playing, but it is good to have one by Wicks's father Ingwald, introduced by the violinist.
Tully Potter