The Adagio by the little-known Austrian composer Joseph Marx provides a unique inspiration for the Dutch double bassist – and an opportunity to perform alongside his sister Christianne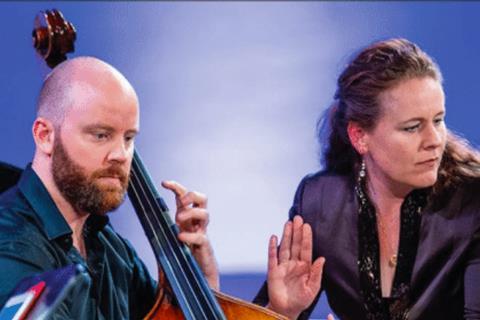 The Adagio by Austrian composer Joseph Marx is a short piece written for cello, piano and voice. I first came across it in 2011 when I was planning a concert tour with my sister, the mezzo-soprano Christianne Stotijn, and the pianist Joseph Breinl.
Obviously the repertoire choices for singer, piano and double bass are limited, but Joseph was teaching at the Hochschule in Graz, Marx's home town, and introduced us to his 4 Lieder of 1916.
Neither of us had heard of him, but as soon as I heard the Adagio I wanted to find out more. It turned out he'd composed more than 150 songs – a goldmine of riches.
The Adagio in particular is a beautiful, almost impressionistic piece and I immediately knew it would work brilliantly on the double bass.
In his day, Marx was known for his nature-inspired works: he created a whole individual soundscape that evoked the natural world at every turn.
He had a supremely lyrical style of composition, the culmination of the late Romantic era – after him, it was as if there was nowhere else for it to go!
The 4 Lieder are based on poems by the contemporary Austrian poet Anton Wildgans, who was nominated four times for the Nobel Prize in Literature. The Adagio's poem is called Alles Tagverlangen ('All the yearnings of the day') and it's a wistfully dreamy evocation of the moon rising over the forest.
Of course there's lots of natural imagery, which is complemented by Marx's tonal language; and it's clear that he wrote it quite low in the cello register in order to get an earthy kind of sound. I realised that it would also sit well on the double bass, and that the sound would be a more natural fit.
Lieder in general are nice pieces to play on the bass, as bassists have been demonstrating for the past 20 years or so. I think it's still unexpected to hear them played on such a large instrument, but because of the huge leap in the standard of bass playing in the past few decades, there are now far more performers who'll play them.
If I can capture Christian Gerhaher's dark tones and colours in my playing, I know I'm doing well.
It's also fun to perform alongside my sister, who has a very dark alto voice; if she'd been a high soprano it wouldn't work so well. We never practised together while growing up – she studied the violin before focusing on singing – but since playing pieces like the Adagio with her, I've become much more aware of phrasing like a singer.
She taught me that the first thing to learn is how to breathe properly, and I often see it in my students; sometimes they don't understand that there needs to be a sense of breathing, especially in a piece like this, but also when playing a concerto.
When you think that a singer has words to express themselves, you realise that an instrumentalist needs to do so much more to expose the extremes of the piece, and to get the same expressivity and variety of colours.
When practising, I'm inspired by the voice of the baritone Christian Gerhaher. He has a powerful, dark voice like a huge tree, one that needs to move and sing. If I can capture those dark tones and colours in my playing, I know I'm doing well.
In my view, a string player's bow is like a singer's lungs, and the more you can train yourself to give long, controlled phrasing through the bow, the better it will sound.
I'd suggest that a student playing the Adagio for the first time should look at the poem first, to find the longer phrases and see where the line is going, before putting the bow on the string.
There's an interesting pizzicato section halfway through, that can break up the lyrical line, so you need to find a way to sustain the feeling of legato, but also to show the restlessness.
Breathe as much as possible, and make the lines as long as possible, too, so that you really can sing along with the voice.
INTERVIEW BY CHRISTIAN LLOYD